Beryl
Maxine Peake
Oldham Coliseum Theatre
Oldham Coliseum Theatre
–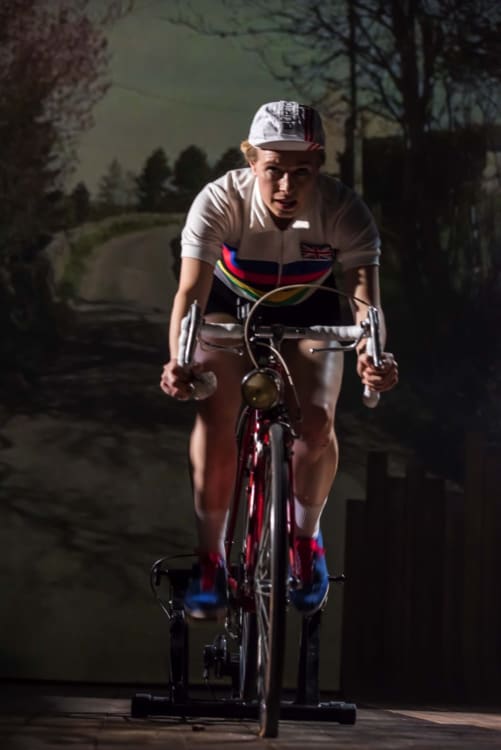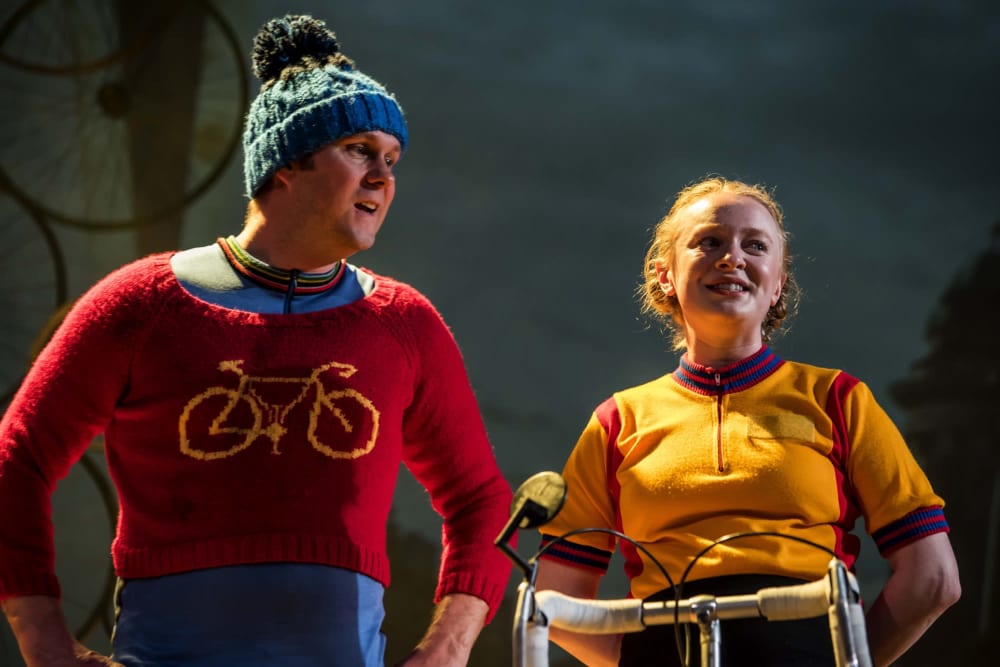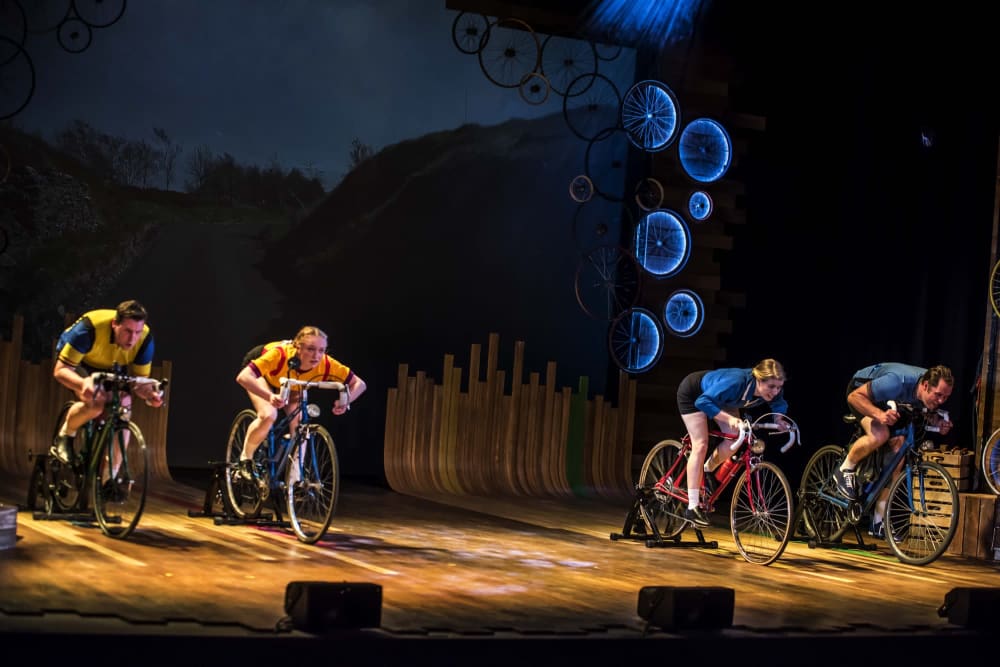 Maxine Peake's play about champion Yorkshire cyclist Beryl Burton is back in the North West—Bolton Octagon produced it three years ago at Bolton Library and Museum—with a mini tour of this production directed by Coliseum Artistic Director Chris Lawson going from Oldham to Theatre by the Lake in Keswick and The Dukes in Lancaster.
The play brings together a group of actors to tell the story of Beryl's life, each playing multiple roles and using direct audience address to fill in the gaps—not an original approach, but one that works well. The four actors sometimes bicker, complain, correct each other or ask one another questions, which all adds to the largely comic, knockabout spirit of the piece.
That said, the story is told in a pretty conventional, chronological fashion, starting with young Beryl Charnock getting told off by her mother for playing ball instead of helping to make her father's tea, then collapsing during her 11+ exam due to rheumatic fever—requiring 9 months in hospital and 15 months convalescing with nuns in Southport—after which she was told she would have to avoid any physical exertion for the rest of her life. At least in the play version of Beryl, being told she couldn't do something was what spurred her on to be a world champion.
Beryl met Charlie Burton at work, who introduced her to cycling and got her to join Morley Cycling Club, and they married, having a daughter, Denise, who also became a champion cyclist. Beryl continued to break records and win British then world championship medals, as well as fame if not fortune (she remained an amateur and worked as a labourer on a rhubarb farm between races), but was obsessive about it, despite health issues and a couple of serious accidents. She lost some public sympathy when Denise beat her in 1976 and she refused to shake hands with her own daughter.
Although she kept promising to give up and take it easy, she continued to cycle until she died in 1996 while out delivering invitations to her 59th birthday party—on her bike, of course.
Designer Irene Jade provides a set made of dark-stained floorboards that bend up towards a rear screen, which sometimes shows film of the country roads they are travelling along (projection designer Grant Archer) while they ride bikes on the spot, sometimes is an appropriate still backdrop and sometimes provides extra information such as newspaper headlines or photos. The walls are decorated with bike wheels, effectively lit by Will Evans.
While all four actors play many roles, mixing serious with comic and a bit of downright silly, as well as narrating as themselves, most have key characters they come back to through the story. Tori Burgess is young Beryl at the beginning and later becomes Beryl's daughter, Denise. Elizabeth Twells, after playing young Beryl's mother, gets across the obsession of adult Beryl, while James Lewis is her very supportive and long-suffering husband, Charlie. Charlie Ryan completes the quartet with a wide range of roles.
The play makes a big point about people not having heard of one of our greatest athletes, which I don't think I had before seeing the play in Bolton, but then I wasn't alive for most of her career and am not interested in sport so would struggle to recognise most of today's sports people—which my late father certainly couldn't say, and he remembered her well when I asked him three years ago. The play shows her being recognised both officially and by the public in her lifetime, even being awarded an OBE, but her achievements do deserve continuing recognition.
She won the Road Time Trials Council's British Best All-Rounder Competition for 25 consecutive years, was the first woman to break the hour barrier for the 25-mile time trial, set a new 12-hour time record that even beat the men's record—the first time ever for a woman—which held for 2 years and as a women's record for 50 years. Some of these facts produced audible gasps from the lively press night audience.
Lawson's production keeps the exhausting pace up and is able to flit comfortably between panto silliness and serious drama and back again. It may may not break any ground dramatically and some of the dialogue is functional rather than great, but it does its job well of informing while entertaining.
Reviewer: David Chadderton