The Best of Ailey
Alvin Ailey American Dance Theater
Theatre Royal, Newcastle, and touring
(2007)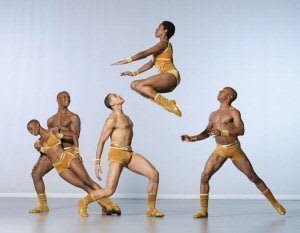 For its autumn UK tour, the Alvin Ailey American Dance Theater has three full length programmes - the Homage to Alvin Ailey, Best of Ailey and Jazz programmes - and a "mini-matinee". It was The Best of Ailey programme which the company brought to Newcastle's Theatre Royal. It comprises Firebird (1970), Maurice Béjart's choreography for Stravinsky's Firebird Suite, restaged by Sonach Mirk Robles, Twyla Tharp's The Golden Section (1983), staged by Shelley Washington and danced to music by David Byrne, and Ailey's own Revelations (1960), the company's signature piece, danced to traditional African-American religious music.
Firebird, a piece which is new to the company, opens the evening. Béjart's choreography is closer to classical ballet than the usual Ailey style and I did sense a little uncertainty at times, as if the dancers were struggling with the style, something which one simply does not expect from this company. That aside, however, the piece is compelling and its allegorical nature sufficiently different from the traditional Russian fairytale to hold the interest.
The Golden Section is a real high-energy piece, with some breathtaking leaps and group work which had the audience gasping in amazement. The dancers were clearly happier - and definitely more at home - with Twyla Tharp's choreography with its more contemporary and, indeed, very occasional Broadway feel. Like Firebird it is new to the company and they rise to its challenge superbly well. For me it was the highlight of the evening.
The evening ended with Revelations. Nearly fifty years old it may be but it still has the power to move and it certainly did at the Theatre Royal, bringing the audience to its feet. And not for the first time - it had the same effect at the company's last visit in 2005 (see our review) - and indeed one suspects that audiences would complain loud and long if it were not included in the programme.
What with the summer closure of the theatre for refurbishment and the small number of companies touring, the North East's contemporary dance audience has not had the chance to see high quality international companies for some time and they packed the theatre, full of anticipation and excitement. They were not disappointed.
The "Best of Ailey" programme plays at the Bradford Alhambra (5th - 6th October) and The Lowry, Salford (9th - 10th), while Nottingham's Royal Concert Hall sees the "Homage to Alvin Ailey" programme (2nd - 3rd).
Reviewer: Peter Lathan