The Best of Friends
Correspondence adapted by Hugh Whitemore
A Hampstead Theatre Production.
Yvonne Arnaud Theatre, Guildford, and touring
(2006)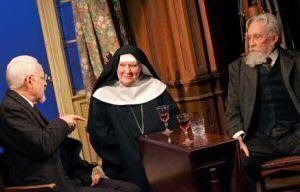 The enormously successful 84 Charing Cross Road was the story of an unlikely transatlantic war-time friendship – conducted purely by letter - between outspoken American writer Helen Hanff and bookshop owner Frank Doel, a very correct and reserved English gentleman. This time director James Roose-Evans has taken an even more unlikely friendship between two confirmed atheists and a Benedictine nun who reputedly only once left the confines of Stanbrook Abbey during the seventy years she spent there, finding more happiness and freedom in her cloistered state than others find in the outside world. "It depends" she says "how you define freedom".
It is not explained how the three first became friends, but a shared expertise in the study of medieval manuscripts was probably the first point of contact between the nun and Sydney Cockerell, the Director of the Fitzwilliam Museum in Cambridge - a man who corresponded with almost everyone of note, keeping meticulously filed his thousands of letters, and during this play he is constantly referring to his many illustrious friends. Tolstoy, William Morris and Walter de la Mare are three of those mentioned, which gives some idea of the period and their contemporaries, and it is George Bernard Shaw who completes the trio of correspondents.
There is no action as such, and no real narrative, simply conversations between the three taking excerpts from their letters – the passing of time evident in their references to current events. Mention is made of the abdication of Edward VIII, the death of King George, and at one point the sound of a wartime air raid warning is heard, during which GBS arrives complete with tin hat.
The set is a solidly old-fashioned study – well two studies, one each side of the stage – complete with William Morris wallpaper, divided in the centre by large French windows through which Dame Laurentia McLachlan makes her entrances, and the participants barely move from their desks, the only one doing any work being the nun as she busily polishes apples to store, sews, or pours tea. Not exactly an action packed production, but an intriguing glimpse into the minds of three eminent contemporaries drawn together by their love of learning and, as you might expect, the discussions between them cover many aspects of life and religion.
What lifts this play above the mere repetition of their correspondence is the exceptional talents of the participants. Roy Dotrice's Shaw is exactly the irascible character expected and in looks and manner totally convincing. "A man never tells you anything until you contradict him," he says, with a decisive snap of the shears he is about to use to trim his hedge. Sums up the man completely!
Sir Sydney Cockerell, played by Michael Pennington, is as pedantic in his speech and beliefs, as you would expect from a man who managed to "transform a provincial gallery into one which set a new standard of excellence", and it is he who accompanies Dame Laurentia (now Abbess) on her one trip to London to visit Westminster Cathedral and The British Museum – an event which stayed fondly in both their minds for many years.
The inimitable Patricia Routledge needs no introduction. She has left Hyacinth Bucket well behind and her expression is one of beatific contentment belying her constant quest for knowledge – "an enclosed nun with an unenclosed mind!"
A very gently enjoyable play – exquisitely performed!
At Richmond 8-13th May.
This review was first published in Theatreworld Internet Magazine
Philip Fisher reviewed the premiere of this production at the Hampstead Theatre
Reviewer: Sheila Connor