Betrayal
Harold Pinter
Salisbury Playhouse
Salisbury Playhouse
–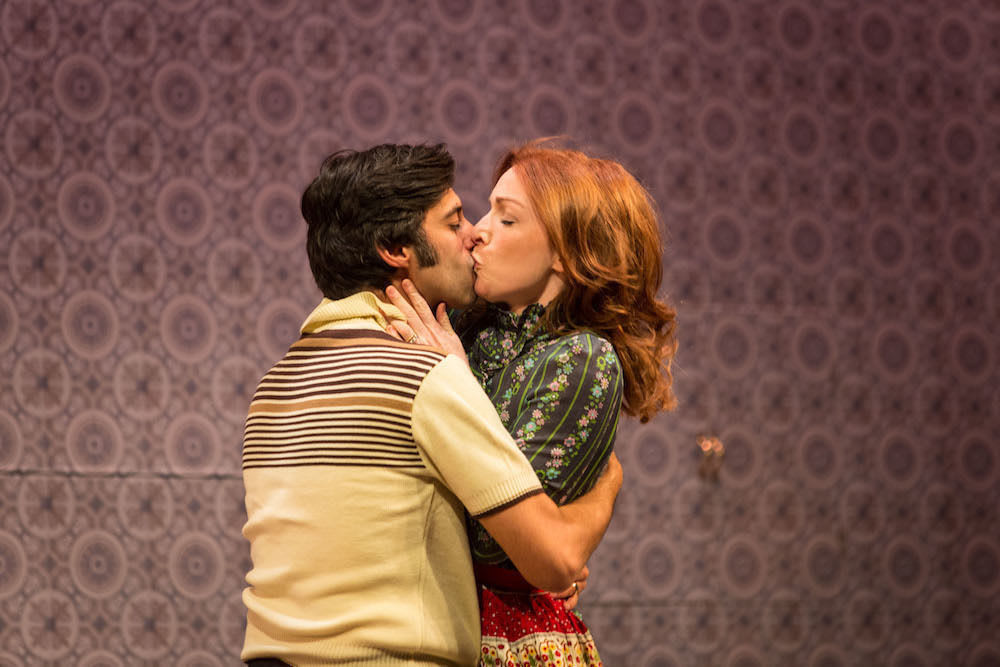 It's certainly different from what we normally experience at Salisbury Playhouse, that's for sure. Just a couple of chairs, a few lamps at ceiling height and an anonymous looking, solid backdrop across the width of the large stage.
Ah yes, but you don't need to have been to Specsavers to realise that there are what appear to be cracks in the surface of the backdrop which provide faint outlines of large squares and a rectangle. I think these are going to turn out to be significant.
Emma (Kirsty Besterman), director of a London art gallery, and Jerry (Robert Mountford) are meeting at the flat, which they keep especially for the purpose, as they've been doing for the past five years. It soon becomes clear from their conversation that the arrangement is not going to be permanent.
After all, they both have families and, to make matters worse, Jerry and Emma's husband, Robert, are not only business partners, both concerned with writing and publishing, but also best friends, with many shared interests. Jerry was even best man at their wedding. Further complexities arise, as they are bound to do, over the birth date and possible paternity of Emma's son.
Is this why they have a conversation about whether girl babies or boy babies are more anxious about leaving the womb and the effect this may have on their subsequent lives?
There are a lot of long pauses at this stage of the narrative.
Another unusual aspect is that this dialogue, while dealing with events that obviously form the ending of the play, actually occur at the beginning. And we're made aware of this by reminders of the dates (beginning with 1977 and ending with 1972) actually projected onto the backdrop.
But those two squares and a single rectangle? They're to allow the appearance of double beds as they are variously needed (no cause for alarm though—their pristine surfaces are barely disturbed) and a door, of course. All slide onto the set on silent tracks and make their exits as professionally as any actor.
But the real star of the set at this point in the play is the table, where Jerry and Robert are discussing some of their authors while having lunch, presided over by a character just known as The Waiter (Donovan Imber), who, with his seductive accent, takes us all to our favourite Italian locations. The way the table makes its dramatically stylish exit through the stage floor earns a well deserved and enthusiastic round of applause.
So how do we feel about these characters?
I don't think we're meant to feel sympathetic. After all, they're well educated and affluent, so largely protected from the problems of society we associate with that period of history—the industrial unrest (where, due to the underlying uncertainties, even theatres were never entirely sure of being able to open) and the Winter of Discontent. And, from a 2017 viewpoint, they're disgracefully promiscuous, while Robert's almost perpetual drunkenness would surely, these days, have resulted at least in the loss of his driving licence, if not his liberty.
So, in a drama with only three main characters, all of them reprehensible, where do we find the hero?
I think it's got to be a heroine, hasn't it?
It's got to be the one who gets only a cursory mention, the one dedicated to saving lives. It's got to be the doctor, Jerry's saintly wife.
Reviewer: Anne Hill