Bette & Joan - The Final Curtain
Sarah Thom & Sarah Toogood
Foursight Theatre
St James Studio
–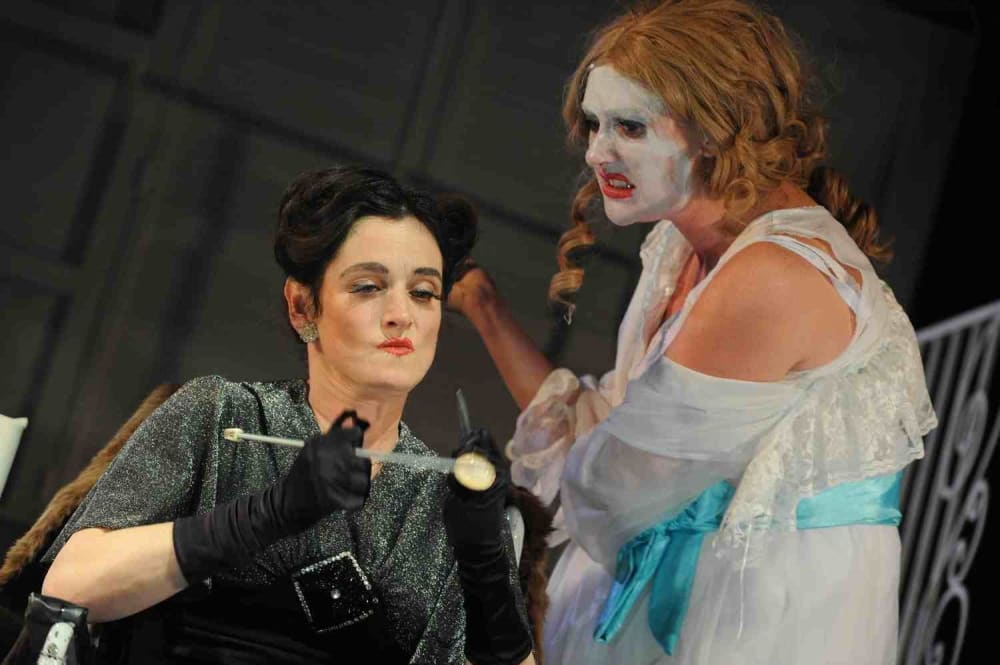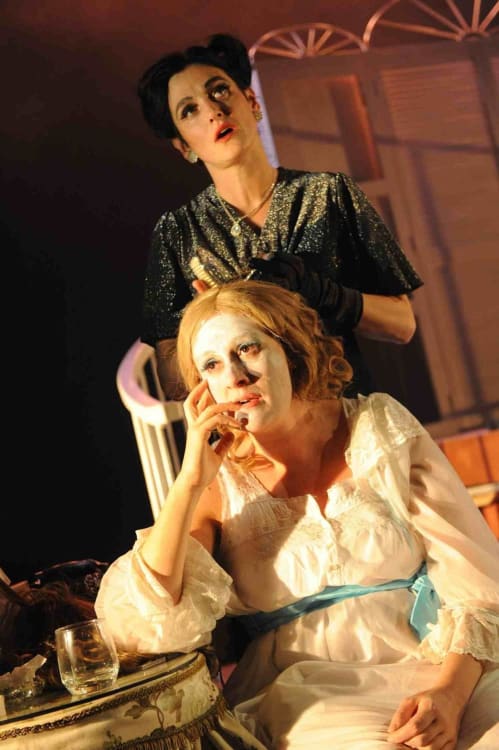 We all want to die with dignity. Whether you're a popper or a princess, down-and-out or diva, few of us have any choice about how it ultimately happens.
Many hope our nearest and dearest who have gone before will be waiting at the pearly gates with a big cheesy smile and a hug. One things for certain, few would want to see our nemesis there chastising us as we flicker perilously between this world and the next.
No such luck for poor old Bette Davis played by Sarah Thom. There she is racing alongside the Grim Reaper—saliva running from her twisted mouth, left arm lifeless and drooping down her side, with a wonky leg—barely a shadow of the brash matriarch of Hollywood she once was and who emerges from the closet in the corner of the room—in much the same way many of the audience members would
have 'come out' some time before I'd imagine—is her lifelong arch enemy Joan Crawford played by the sassy Sarah Toogood.
Glamorous and demure, excited and condescending Crawford takes great pleasure in seeing the bitch she loved to hate for most of his life, humiliated, desperately in need of help and lying in a degraded heap in the middle of the bedroom floor.
What a bummer for Bette. Off-course Joan is already dead and has been sent by two mad old women who are intermittently projected onto the front of that wardrobe, to entice Bette to breathe her last and join them all on the "dark side". But, as you'd expect from this tough old boot, she's determined to go in her own time and on her own terms.
The dynamic between Davis and Crawford has been well documented over the years. Bette & Joan—The Final Curtain is excellent at summarising the basis of this turbulent relationship through a series of moving and at times disturbing flashbacks from the days when both ladies were able to turn heads and demand salaries, men and just about anything else they wanted with a simple click of their fingers.
It becomes clear that, despite their overt loathing of each other and insistence one is superior to the other, they have many similarities. As women in Hollywood, they're forced to acknowledge they've both been truly shafted by the men—both physically and metaphorically—the industry and perhaps most hurtful of all by their own daughters.
How annoying must it be to discover the only person waiting for you at the end of your life, is the one person you spent much of that life criticising and trying to destroy?
This is a tale created using many facts and a lot of artistic licence about two undisputed icons of Hollywood and forms part of St James Theatre's rich Icons Season. The dry humour and quick wit of both women helped stoke the rivalry between them back in the day and decades later their cutting acid remarks are
still as toxic and at times funny as the day they were spoken.
In one episode, an exhausted Joan asks, "can you say something nice?" and Bette barks back in that scathing way "sure, I just won't mean it!".
Well I do mean it when I say Bette & Joan—The Final Curtain is worth every second of its short eighty-minute run; it's well constructed and captures the essence of both actors and stars perfectly.

Reviewer: Thomas Magill