Bette and Joan - The Final Curtain
Devised by Sarah Thom, Sarah Toogood and James Greaves and written by James Greaves
Foursight Theatre with Jacksons Lane and Richard Jordan Productions Ltd in association with Assembly and MAC Birmingham
Jackson's Lane Theatre
(2011)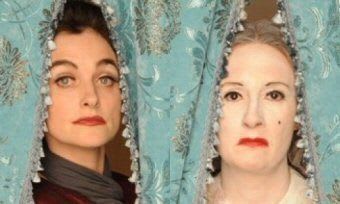 Not to be confused with the play Bette and Joan by Anton Burge, which takes place during the shooting of What Ever Happened to Baby Jane and seen earlier this year at the Arts Theatre, this Davis and Crawford bitch-fest, in London after its run on the Edinburgh Fringe, is set eight years after Crawford's death with Davis on her deathbed.
Gossip columnists Hedda Hopper and Luella Parsons, still in control of reputations in the afterlife and seen here on deliberately poor quality film, have sent Crawford to bring Davis to join them. Davis doesn't want to go, especially with her.
For a straight through eighty minutes Sarah Thorn's Bette and Sarah Toogood's Joan go at it full throttle while on film, as Hedda and Luella, the same performers scream even louder, the sound so distorted it is difficult to understand most of what they say. While the on-stage movie queens can get away with it because of the interaction between them and sometimes with the audience, their flickering black and white images are pure caricature. That pair no doubt deserve it but they point up how much this show totters on that fine line between humour and banality.
They dig up the memories of their childhoods, their lovers, their disastrous relationships with their children and those dark secrets the studios managed to suppress, things often so paralleled in their lives that they tell us them in unison. This element of double biography will probably be most enjoyed by those who know it all already, lapping up the camp extravagance of the playing as these movie monsters face each other. What saves it from being just an outing for diva devotees is the glimmering of compassion that lies behind the camp and some very funny running gags in which the audience becomes complicit, including sequences when various versions of the facts are rerun like a succession of movie takes.
Sound is used to great effect. For Bette the approach of death sounds like a steam train express and there are complex cues to match pouring drinks and other effects - full marks to the stage management for getting them spot on!
"Bette & Joan - The Final Curtain" plays at Jackson's Lane until 24th September 2011
Reviewer: Howard Loxton