Between
Oskar Brown
Four Word Productions
King's Head Theatre
–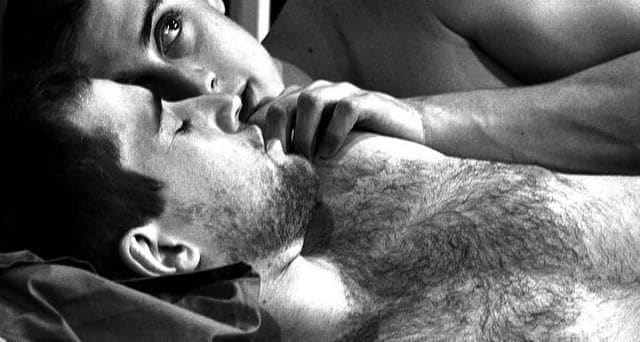 Gaining five stars from the BTG's review when it played on the Edinburgh Fringe last year, this 50-minute two-hander now has its London premier. A simple setting of blue painted bench forms stand against a neutral background left from the play that precedes it each evening, with the floor scattered with crumpled blue paper, like that of its teacher character's notebook, symbolic perhaps of his on-going mentoring, or of an equally on-going search for love.
It is a play about love and its possible gradations, and about poetry and acting and begins, almost ritually, with each actor independent in isolation but interrupting each other's thought pattern as one begins Shakespeare's Sonnet 23 and the other muses on how often they have given up smoking: "I stopped smoking when he left and started when I fell in love."
The pronouns are masculine, the particular context homosexual but, though the publicity photographs do have a touch of the homoerotic, this exploration of love's trials and try outs could apply just as easily to all sexes and orientations. There is one quick flash of nudity and some early pubescent sexual experimentation but if hardly discreet is undercover and clearly simulated, this is in no way prurient so it shouldn't frighten the horses.
Shakespeare's sonnets seem to chronicle two love affairs and this play seems to outline three. There is a pair of young boys just discovering sex and fascinated by it, one of whom perhaps may be attracted to the other, fascination matched by a fear of difference. There is a grown couple whose romantic relationship is beginning to fracture because their sexual hunger is not balanced and then there is the relationship between teacher and his actor pupil as they working on Shakespeare's sonnet. One way you could read this is as three stages in the romantic history of the teacher, who is played by the dramatist Oskar Brown. His partner is Nicholas Campbell. Both give clearly spoken and emotionally truthful performances that shun the entirely naturalistic but make them real within a theatrical construct.
These two actors play all three couples, changing shirts as they make the transition from one pair to another. It is a device that becomes a bit tedious but they accomplish it smoothly, unlike the way that their characters handle their problems. Brown tells almost nothing of the background of these characters, only the situation of the moment, but as the short scenes switch between them they have a concentration that attempts to encapsulate ideas as compactly as a sonnet.
"As an unperfect actor on the stage …" says much about the problem of recognising and declaring love but it is not the easiest of Shakespeare's sonnets to understand or interpret but the repeated attempts at speaking it rather exaggerate the difficulty before we even hear it completely, and then voiced by a student who has not fully grasped it so that he can convey its levels to us.
The scenes where he works with his tutor do seem to exaggerate the problem for a competent actor and one might question the tutor's method-like approach to uncovering meaning in Shakespeare but the problem of interpreting this sonnet is a way of reflecting the problems with love that the verses themselves explore and that is how it is used here.
Brown closes his play with another sonnet by Shakespeare: "Farewell! thou art too dear for my possessing." That precisely expresses the teacher's predicament and because the character is the teacher Brown is able to deliver it beautifully.
Flawed, I think, by the repetition of the tutoring, this short show still has much to recommend it, not least the performances of Brown and Campbell. Geoffrey Hyland's direction has a freshness that makes it feel like a new staging - and perhaps it is for there are earlier company photographs that look very different. Performances are conveniently timed so that it is easy to dine beforehand and still not make a late night of it.
Reviewer: Howard Loxton