Betwixt!
Ian McFarlane
Trafalgar Studios 2
(2011)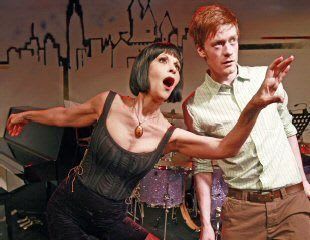 Poor old Bailey Howard; one best seller under his belt and he's got writer's block. That is until one day actor extraordinaire, or so he says, Cooper Fitzgerald knocks on his door with a key to another that might just solve all their problems.
Betwixt! is that wonderful type of musical theatre that never once apologises for its silliness, embraces cheese, camps it up to high heaven and doesn't know the meaning of over the top. Puns, innuendo and eccentricity abound in a glorious two hours of musical theatre fun.
A story all about journeys, Betwixt! has been on its own since its first production at the King's Head back in 2008. New songs have been written for its run at the Trafalgar Studios and the 2011 cast boasts none other than Ellen Greene who created the role of Audrey in both stage and screen versions of Little Shop of Horrors and musical theatre and pantomime legend Peter Duncan.
Both experienced performers multi-role and excel as Princess, Nymph Queen and Enchantress (Greene) and Prince Haydn, Haydn Prince and the Great Garbo (Duncan). Betwixt! plays on the existence of a parallel fairytale universe and as Bailey Howard and Cooper Fitzgerald explore a realm of talking heads and mystical fairies they each venture on a somewhat personal journey in their quest to destroy the evil Enchantress.
The narrative shares much in common with The Wizard of Oz and in style the production rests comfortably between Avenue Q, Spamalot, Edinburgh Fringe and regional tour hit Hamlet! The Musical and the work of Kombat Opera. The lyrics are clever, the melodies catchy and in this outing each note is perfectly sung by the talented cast of nine to the tones of a tuneful three piece band led by George Dyer.
Embracing a variety of musical styles and referencing popular culture, musical numbers zip along at a fine pace, as does the production slickly directed by the show's author McFarlane. Rachel Stone's design ensures the focus remains on the performers throughout and choreographer Grace Harrington has done a sterling job considering the venue's size, even managing to fit in a 42nd Street-worthy tap dance routine to the night's proceedings.
Executing many of Harrington's witty moves are Will Hawksworth, Alyssa Nicol, Vicki Lee Taylor and Rob Wilshaw who perform a myriad of roles as the show's ever evolving chorus. From Reporters to Theatre Troupe Members and Nymphs, each and every one an engaging performance, faces ready to burst with pure expression and joie de vivre. Hawksworth's mute troupe member Joan brings the house down and is just one example of McFarlane's effective use of contrast to raise the comedy stakes in each scene.
As the struggling writer Bailey Howard, Benedict Salter drives the narrative and is the straight man in every way to Steven Webb's deliciously camp Cooper Fitzgerald - best described as a cross between John Barrowman and Jedward. The two young actors work well together and, in and amongst the show's over-the-top nature, manage to achieve some more tender moments such as in musical number 'Eyes of a Child'.
But where would a fairytale be without romance? As disembodied head Miranda, Ashleigh Gray, like her fellow cast members, knows how to ring every last laugh out of her Germanic character as this mad-cap musical Mädchen falls in love with the "skinny ginger boy with a pencil", Bailey Howard.
The production would benefit from some cutting as certain musical numbers seem a little superfluous and self-indulgent, whilst others slow down the show's fast moving pace. The programme notes suggest a lot of character culling has already taken place, but there is still a sense of trying to fit too much in, which sadly results in a patchy narrative and leaves the show suffering from an identity crisis as it tries to be both glorious fairyland romp and touching personal journey in equal measure.
A musical about the importance of believing in yourself, Betwixt! guarantees a fantastical evening of fun and frolics. It's fresh, modern, and to borrow from one of the show's song titles, truly 'Fabulous Man'!
Playing until 10th September 2011
Reviewer: Simon Sladen