Beyond Bollywood
Writer / choreographer Rajeev Goswami, lyrics Irfan Siddiqui, original score Salim and Sulaiman Merchant
Rajeev Goswami, Irfan Siddiqui, Nassyma Bentchikou & Salim/Sulaiman
London Palladium
–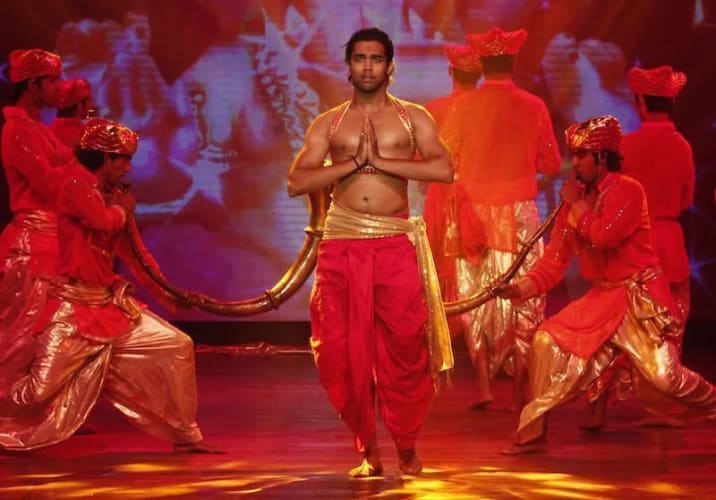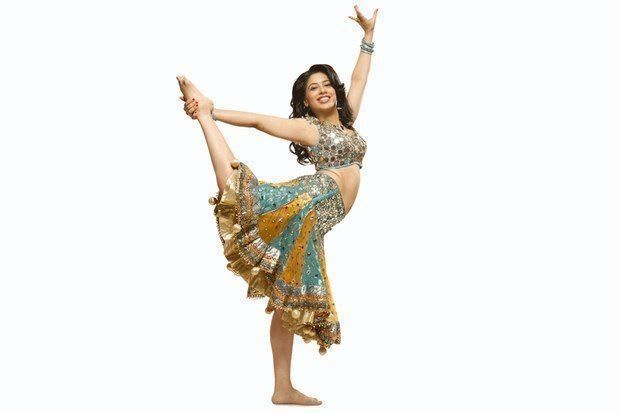 You might imagine that Beyond Bollywood would be a show that would take Bollywood dance styles to even more exaggerated levels of glitz and schmaltz, but its plot line sets out to do just the opposite, though with dances full of Bollywood energy and still full of bling set against the excesses of its digital scenery.
It starts off with an exciting explosion of drumming and traditional dancing before Kathak dancer Pooja Pant introduces the musicians and singer and herself performing a dance full of spins. She has beautifully fluid arms even in the angularity of some movement.
Things seem set for a review show of theatricalised traditional dancing but the next scene is set in Munich and turns the show into a drama: a show business story. Pooja Pant is now the owner of a failing theatre performing Indian dance whose husband wants her to sell it.
Jump some years and she is dead and her grown-up daughter Shaily (Ana Ilmi) is trying to keep the show going with modern choreography. Then mother's spirit pops up (wreathed in dry ice and still spinning) to remind her of her roots and inspire a return to tradition so she travels to India to rediscover its dances.
In Mumbai, choreographer Raghav (Mohit Mathur) with his assistant Ballu (Sudeep Modak) is shooting a series of rather ropey routines. Then Shaily auditions and he employs her. He intends to pass off her fusion dances as his but something, perhaps romance, is growing between them.
The script is basic, the playing simplistic, intimate scenes dwarfed by the setting, though some of their humour gets across to the audience. You can't fault the dancing and there is a spectacular number before the god Ganesh, but the dances fit the plot by showing little inspiration.
It is not until nearly the interval that some back-story is revealed that makes things more interesting. Then the mother's influence prevails. Raghav and Ballu decide to show Shaily India and the mood becomes moonlight and balletic romanticism.
The second half makes up for the longueurs of the first part. From an encampment on the sands of Rajasthan and its traditional dance the Kalbelia to Gujarat, a Diwali festival, a Punjabi wedding, there is a sequence of theatrical versions of traditional genres and the characters themselves develop.
It is the return to Munich, where Shaily's father has already sold the theatre, that now provides an hilarious sequence with the Raghav convincing its new owner they should go on presenting dance there by tempting him with a skimpily leather-clad vision to "It's Raining Men". Then, of course, Shaily's new show becomes the finale to end up on a high.
Both acts open with very effective scenic images, but some other out of scale, over animated settings are awful and with the amount of glitter on the costumes there is no need to dazzle the audience with lights in their eyes.
There is accurate miming to partially pre-recorded soundtrack and it would have been good to see more of the excellent live musicians: with Prasad Rahane on sitar, Vivek Mishra on Tabla and Ganesh Sawani on Pakhawaj joined by Tejas Damania on keyboard (an indication of the musical fusion of the score).
Beyond Bollywood doesn't really match its plot by restoring authenticity, it is designed as a piece of theatre for regular audiences not dance connoisseurs. Created for our West End in Mumbai, where it played successfully, this lavish production is clearly aimed at the international market.
The early spoken scenes seem too long for that, but the vitality of the dancers and the pace of the rest of the show and, yes, its excesses, are crowd pleasing, though it is a pity that the whole story is not told through dance.
Reviewer: Howard Loxton