Beyond the Breakers
Edited and written by Ivan Cutting
Eastern Angles Theatre Company
Maldon Town Hall, and touring
(2005)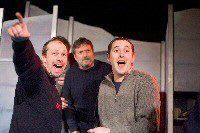 "It's easier for the lifeboatmen than it is for the wives " Women may have been the ones who waited and wept, but in Ivan Cutting's new play about the North Norfolk lifeboats, it's a feisty young woman who takes the dramatic helm. Sarah (Angela Ward) works in HR, but her brother Denny (Dean Lepley) is a crewmember of the Sheringham lifeboat, struggling to accept not only the new high-tech training practices, but the move from the old Oakley class boat to the new inshore inflatable craft.
A fisherman, like all the old lifeboatmen, Denny also finds his job under threat, and he's not impressed by lifeboat skipper Jimbo's (Andy Wisher) latest recruit, whose only aquatic experience is a bit of sailing on the Broads. However, with Sarah's encouragement, the enthusiastic Kevin (Peter Stickney) finally makes the grade both as crewmember and lover, despite the scepticism of her brother and their uncle, the oldtimer Hangdog (David Redgrave).
By splicing dramatised anecdotes from Sheringham crewmembers past and present into this contemporary plot, Ivan Cutting's play deftly enacts the entire history of the Norfolk lifeboats, from the glory days of Henry Blogg to the arrival of the inflatable Atlantic 75. With the undermining of the livelihoods of those old fishing families who traditionally supplied the boats with crewmembers, the intense local competition to man the lifeboats is a thing of the past, but their moments of passion and glory are given full expression alongside more modern concerns, in an absorbing theatrical collage.
Despite its diversity of tales and voices, an emotional unity is achieved in Cutting's play both by song (the cast deliver some rousing numbers in unison and harmony), and by the judicious selection and positioning of his material. Evidently, scores of lifeboatmen were interviewed during the preparation of the play, and while Hangdog is the mouthpiece for some aspects of former times, several tales of extraordinary courage and endurance are energetically played out before us. Cutting's direction ensures a brisk pace throughout, with the actors - and especially Hangdog - often skilfully delivering lines crammed with information without any sense of tedium or lecturing.
Rosie Alabaster's simple but attractive set, consisting of steps, platforms and curved seablue panels, functions beautifully as an office, a lifeboat deck, and the high seas, contributing to the seamless shifts in time and place that characterise this production.
As the play ends, the impression left by this evening of many voices is one of a shared history of passion and endeavour. Halfway through the play, we are given a riveting account of the Sheringham lifeboat's longest day, attending a ship in distress until larger boats can arrive to rescue the crew. In the closing minutes, this extraordinary tale is concluded - the rigours of eleven arduous, freezing, stressful hours at sea, and the toll it takes. It is a powerful, emotional moment on which to end this absorbing piece of theatre.
The tour continues until 28th May
Reviewer: Jill Sharp