Beyond the Horizon
Eugene O'Neill
Produced by Royal & Derngate
Royal & Derngate, Northampton
(2009)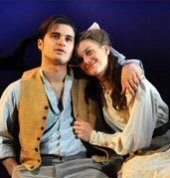 As part of the 'Young America' season at the Royal & Derngate, comes this rarely seen Eugene O'Neil play in rep with Tennessee William's Spring Storm. Both plays are well worth a visit.
Beyond the Horizon seems a pertinent choice given the present economic crisis - the American capitalist model of roads in the distance paved with gold is smashed open to reveal painful characters intertwined in complex relationships.
The storyline has a very filmic quality - this is typical O'Neil in which a conflict-laden situation is slowly revealed, giving the audience the upper hand by knowing much more than the characters themselves.
There are delicious moments within this cleverly simple play. The duologue scene between the unfortunate Robert Mayo and Ruth Atkins is dramatically constructed so that your empathy swings between the two characters.
The cast is strong in both plays with Liz White (Ruth Atkins in Beyond the Horizon and Heavenly Critchfield in Spring Storm) really standing out. To see both of the plays will give you a sense of this talented performer's range of characterisation - energetic and enigmatic in Spring Storm and dour and heavy in Beyond the Horizon.
There are slight misgivings with this play. The plot seems rather underlined and spoon-fed at the finale especially. The set, too, is rather barren and unimaginative. Although this fits the general atmosphere of the play, it does feel rather underdeveloped - especially in comparison with the set for the other play in this couplet.
However, this doesn't take away from another well acted, well presented play at the Royal. O'Neill is probably one of the best when it comes to creating in-depth characters and relationships. This is evident in the brothers in Beyond the Horizon - Michael Malarkey (Robert Mayo) and Michael Thomson (Andrew Mayo) portray this with commitment and truth.
If you can see both plays in this season I would highly recommend you do. Once again the Royal & Derngate create work of the highest order.
"Beyond The Horizon" plays until Saturday 14th November 2009
Philip Fisher reviewed this production on its transfer to the National Theatre
Reviewer: John Johnson