Biblical Tales
Written and directed by Steven Berkoff
New End Theatre
(2010)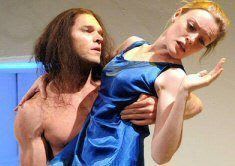 As a true East Ender (born in Stepney, within the sound of Bow Bells), it seems fitting that renowned film and stage actor/playwright Steven Berkoff chose London for the world premiere of Biblical Tales, a linguistic reworking of four of the most well-known stories from the Old Testament (Adam and Eve; David and Goliath; Samson and Delilah; Pharaoh and Moses) that provide modern satirical and political parallels.
This was my first experience of the famous 'Berkovian style' and those expecting an apparently typical mix of unmentionable subjects, sex and humiliation, might find this a little tame; a warning for adult content and language is applicable but to label the production as not for the faint-hearted is over-cautious. Which is a good thing, as more people may be inclined to come along. Many, of course, will come for the name 'Berkoff'.
In the main, a cast of five performs two partnerships for each story, on a whitewashed stage that allows complete focus on bodies and words. And, words are key: Mr. Berkoff's adeptness lies in keeping the stories pretty much as they are, yet placing quotidian language in the mouths of his characters.
So we begin with a 'love-a-duck', estuary-English Adam and Eve (Mark Frost and Sarah Chamberlain) in prelapsarian ignorance, yet already noticing profound differences between how men and women think. When Adam asks Eve why, of all the fruits available, she has to want the one she can't have, an audience can sense the irony of a human nature that we now know to be common to both sexes. Antony Barclay's hissing presence as the lingering serpent works really well, and seems to echo down into the persona of Delilah, to come.
The second playlet is full of humour as a bloke-ish Saul (Alex Giannini) encourages poetry and harp-loving David (Anthony Barclay) to silence rumbling rumours about his sexuality and take on the mighty Goliath.
The third tale is perhaps over-long yet cleverly performed to composer John Chambers' hypnotic score as a muscular Samson (Matthew Clancy) entwines, ballet-style, with Sarah Chamberlain's determined Delilah. A woman's wiles are clearly on display here, and we don't come off very well. Giannini shines again in the fourth tale as a stoic Moses standing up to Mark Frost's disbelieving Pharoah.
Those who defend Shakespeare's enduring relevance invoke those aspects of humanity that are unchanging; the same argument can be put forward for the Bible; despite an ever increasing secularity, there is something of relevance (literal, symbolic, allegorical) in these ancient stories - reworked here by one of our major contemporary playwrights to mirror aspects of contemporary morality, cruelty and materialism.
To 28 August 2010
Reviewer: Anita-Marguerite Butler