The Big Bite-Size Breakfast Show: Menu 3
Thomas Willshire, Mark Harvey Levine, Tom Hartwell, Bekah Brunstetter, Bella Poynton, Alec Seymour
Pleasance Courtyard
–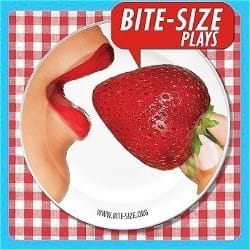 Big Bite-sized Breakfast provides us in Menu 3 six tasty, little eye-openers with coffee, croissants and strawberries served by the more than funny Claira Amy Parr, Rosie Edwards, Tom Hartwell (playwright), Polly Smith and Thomas Willshire (playwright) and cooked up as always by the clever chef (director), Nicholas Brice.
It's "the box of chocolate" sort of morning. After the troupe serves you, they then serve a funny entré of six tasty plays. With these experts, writers, actors and director, you'll be ready to greet the day.
Anniversary (Thomas Willshire) faces off a married couple who address the ever-touchy subject of the anniversary. "It's the seventh, yes. I suppose we could have sex." These two lovers hurl insults like "ungodly harpy" and "you're more scorpion than a woman" with love.
LA Bam (Mark Harvey Levine) is funny with "they don't know what they're fighting about" and more.
Murder (Bekah Brunstetter) is what's in store as two once-friends try to renew a friendship while competing over their writing successes. One got lucky while the other has seven published novels. (grrrr).
A Rare Bird (Bella Poynton): she's suddenly got wings, she's turning into a Sandhill Crane. But not here for the cure, just information.
Beautiful People in a Living Room Doing Nothing (Alec Seymour): "Will Timothy join us this afternoon?" and "Stings a bit. Stings a lot a bit".
It's all funny, whichever menu you choose, and cooked to perfection. And the coffee is good. You can't go wrong.
Reviewer: Catherine Lamm