Bildraum
Steve Salembier & Atelier Bildraum
Atelier Bildraum, Big in Belgium & Richard Jordan, Theatre Royal Plymouth
Summerhall
–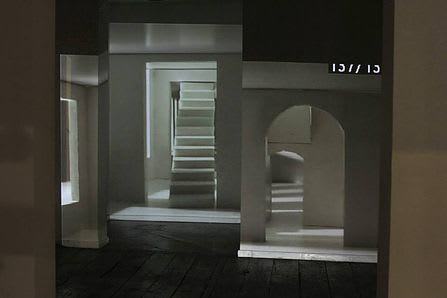 On the playing area are models of rooms which can be easily assembled or taken apart by Steve Salembier while being photographed digitally by Charlotte Bouckert and projected on a large screen. Sounds reflect the possibilities evoked. The lights focus attention and provide the drama of the photographs. The production is Interesting, provocative.
We might envision a play devised, following the changing rooms and photographs and the sounds which would create a story. It has a "film noir" quality. What you could not see happening on the stage would become evident through the sounds and the projections.
The possibilities that the computer has opened up to theatrical production is in its infancy. We are only beginning to use computers to run show and create digital projections and productions values.
But here there is no story. It is more an art installation or event. It is all ambience without application. It is possibilities.
Reviewer: Catherine Lamm