Billionaire Boy
Neal Foster from the novel by David Walliams
Birmingham Stage Company
The Lyric, Theatre Royal Plymouth
–

Listing details and ticket info...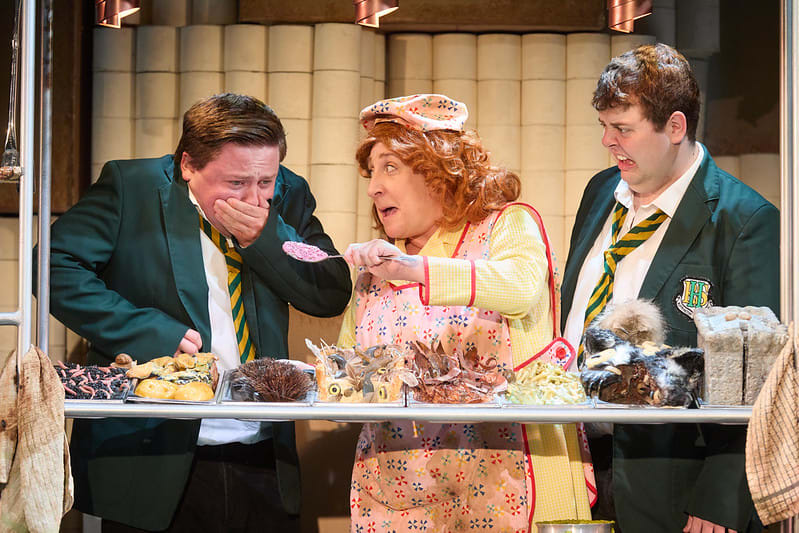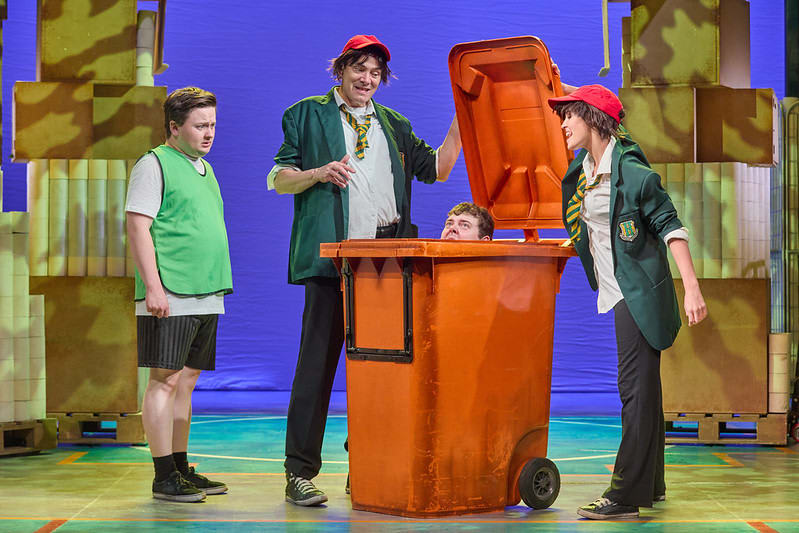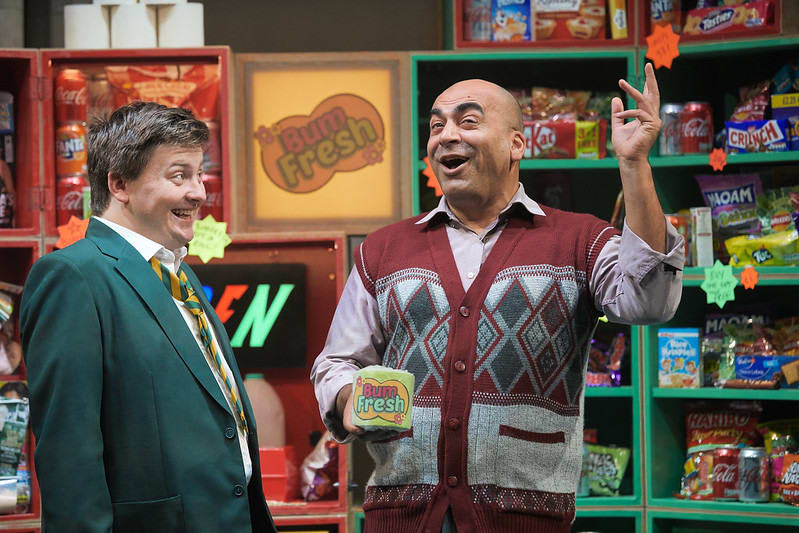 Stereotypes, obvious humour and plenty of poo and bum jokes: just what the under-12s crave, and David Walliams's third page to stage novella hits the spot.
Crass and somewhat two-dimensional, Billionaire Boy is a fast homily on the real value of money and friendship. And, as Bum Fresh hits a purple patch, the real meaning of relationships and what matters is tried and tested.
Joe Spud (Matthew Gordon) is the lonely son of the rags to riches inventor of loo-crative Bum Fresh, the innovative moist-on-one-side loo roll. With (missing) pet crocodiles, his own race car, £1m birthday cheque (again), gold watches and everything a boy might crave, Joe is missing both his mum (ran off with the Scout Leader) and a friend. His posh school (with Latin, History of Tweed, tax loopholes and hunting foxes on the timetable) is full of princes and dukes who taunt Bog Roll King Joe for his humble beginnings and Bottom Billionaire dad.
Dad (Shakespearean stalwart Matthew Mellalieu) is too busy spending his money on glitzy jackets, fast cars, helicopter, wigs and gold-digging girlfriend Sapphire (Wind In The Willows UK tour's Rosie Coles) to spend time with Joe but agrees to a swap from St Cuthberts to local Ruffington Comp (motto: "Doing The Best We Can").
So our hero finds a friend in fubsy Bob (Jake Lomas) and rubs up against school bullies The Grubbs, the horrors of coming last in the cross country race and teachers spouting well-worn phrases and imposing unfair penalties.
Along the way, we meet the unsavoury Mrs Trafe (the ubiquitous Emma Matthews) whose gerbil on toast, macaroni snot and frog mayo canteen proves sanctuary for the tormented duo until Joe's fortune is rumbled, dreams of plastic surgery are realised and would-be friends tout themselves for sale. Down-to-earth corner shop owner Raj (Tuhin Chisti) has plenty of offers and advice while too-cool-for-school new kid Jayden (Matthew Chase) turns heads as he puts the meaning of true friendship to the test.
Adapter Neal Foster directs bringing pace and gusto with slapstick and pathos investing in every child's school experience while adding some subtle and not-so-subtle asides for adults (and makes some quite questionable stereotyping decisions). Jak Poore's songbook is fun and instantly forgettable but it is Jacqueline Trousdale's loo roll set (and flying helicopter) that most delights. Bum Fresh Towers features turrets and crenellations all made from bog rolls with doors and cupboards of varying sizes which open to reveal chandeliers, plants, sweet store and classroom paraphernalia as the action switches from home to school and more.
At an hour max each half, the kids seemed thrilled and adults stayed awake—so something for all the family.
Reviewer: Karen Bussell