Billy and Me
Peter Barnes
Original Theatre Company and Perfectly Normal Productions
Original Theatre Online
–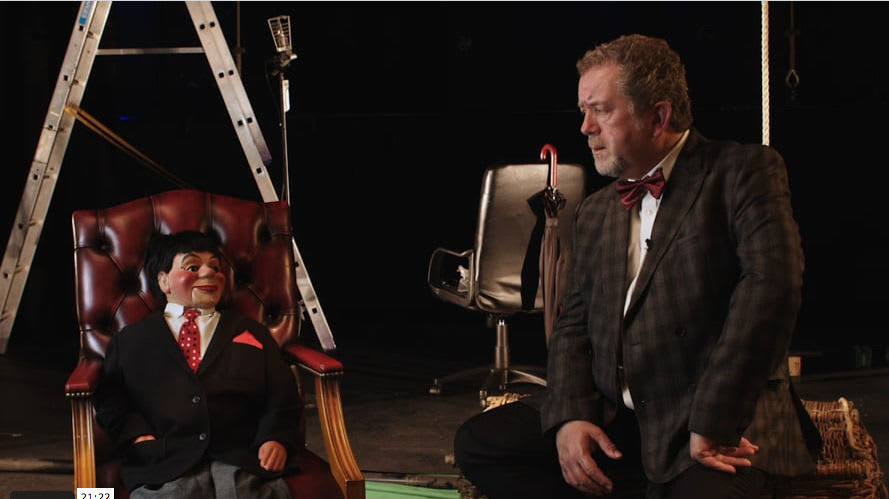 Michael Jennings is a ventriloquist and Billy, Master Billy Benton to give him his full name and titles, is the chief dummy of his dummy family.
After establishing this as a piece of theatre with the same opening sequence as the others in Original Theatre's set of monologues from Barnes' People, director Charlotte Peters and cinematographer Tristan Shepherd follow Jennings from the foyer through to the stage where his dummies are waiting.
It is Billy who speaks first, though of course it's not Billy but Jennings, played by Jon Culshaw—who incidentally makes him the best ventriloquist you've ever seen; you can't catch his mouth moving. I suspect that may be due to technology rather than perfect skill, but this is nevertheless a splendid performance from Culshaw.
Master Billy moans about his creator's lugubriousness. "That," declares Jennings, "is because all my exuberance goes into you." The more independent Billy tries to be, the more schizophrenic Jennings feels he becomes—and there's the backstory. It's not his wooden family that Jennings tries to keep control of but his own demons. Ventriloquism has been his way of handling illness.
Billy and Me offers an intriguing half hour of accomplished playing.
Reviewer: Howard Loxton