Billy Budd
Benjamin Britten, libretto by E M Forster and Eric Crozier based on novel by Herman Melville
Met on Demand
Metropolitan Opera House, New York
From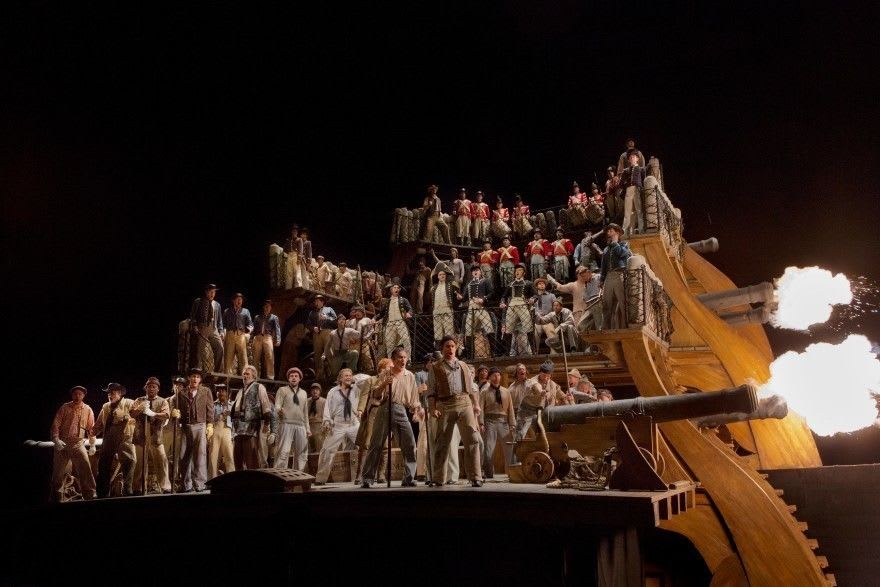 "Don't talk to me about naval tradition," said Winston Churchill. "It's nothing but rum, sodomy and the lash."
John Dexter's production of Benjamin Britten's Billy Budd in 1997, conducted by Steuart Bedford at the Metropolitan Opera House, New York, was its American première. Philip Langridge is Captain Vere, Dwayne Croft is Billy Budd and James Morris is Claggart, the master-at-arms.
There have been a number of dramatizations of Herman Melville's novel on stage and film. Far and away the best is Britten's opera, which premièred in 1951 at The Royal Opera House and was revised in 1964.
Billy Budd is one of the 20th century's most exciting operas: a thrilling confrontation between Good and Evil, set on board a man-of-war in 1797 when the British were fighting the French.
Billy Budd, a foundling, has been pressed into the navy. He is an exceptionally beautiful young man with a stammer and everybody, officers and men, takes an immediate liking to him; everybody that is, except for the brutal Claggart.
Melville likened naïve Billy to an uncorrupted Adam before the Fall, an angel of God, a personification of goodness. Claggart is a satanic figure and the boy's open, trusting nature sets his teeth on edge. Unable to control his lust, he falsely accuses Billy of mutiny and the stammering boy at a loss for words, strikes out and kills him in front of his commanding officer, Captain Vere.
A naval court has no option but to sentence him to be hanged. The nation is at war and the Articles of War allowed for nothing less. The death sentence has also to be seen in the context of the French revolution and the recent mutinies by British sailors at Nore and Spithead.
Britten said that what attracted him to Melville's novel was the conflict in Captain Vere's mind. Vere could have saved Billy, but chose not to, preferring to remain in the closet. Homosexuality was illegal in England until 1967. Herman Melville, E M Forster and Britten all remained in the closet.
John Dexter's production is one of his best. The lead roles are well cast. Philip Langridge is particularly impressive. He is very moving as Captain Vere. In the novel, Vere dies in battle. In the opera, he lives to old age, still nursing his guilt. Dwayne Croft has Billy Budd's youthful innocence and James Morris's Claggart is a powerful presence.
There are a number of ways of tapping into this opera and others at will. The Met Opera on Demand service offers annual ($149.99) and monthly ($14.99) subscriptions as well as a one-off payment ($3.99) for those who have limited time or only want to watch the occasional opera.
Reviewer: Robert Tanitch