Billy Elliot The Musical
Music by Elton John, book and lyrics by Lee Hall
Curve
Curve Theatre, Leicester
–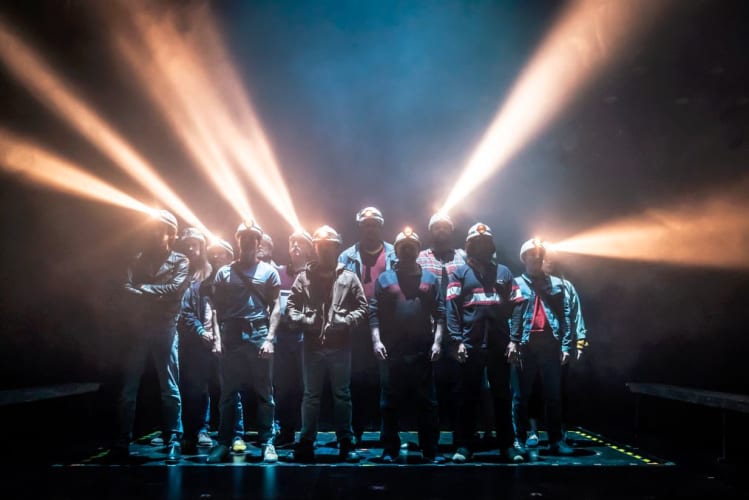 "This is by far the most ambitious show we have staged at Curve!" These are the words of Nikolai Foster, who is deep into his seventh year as Artistic Director at the Leicester theatre. First announced almost a year ago, Billy Elliot The Musical is indeed the largest cast, crew and production team ever assembled. Obviously, this is a huge investment from Curve as it unloads a massive post-COVID splash—which adds pressure, risk and most of all expectation.
The choice of Billy Elliot is a punchy one. The appetite for a revival has been brewing since its last UK performance in 2016 and it took a bold operator to decide to take up the challenge. But Foster is all for bold choices and even bolder productions.
Of course, based on Stephen Daldry's 2000 film, Billy Elliot, the adaptation sees the titular character surrounded by a tight-knit community under threat of collapse as the Miners' Strike of 1984 and 1985 takes hold of everyday life. Young Billy, struggling with the death of his mother, finds an opportunity to shine through the medium of dance. But is a blunted, working-class town outside of Durham ready to embrace Billy's new-found passion?
Billy Elliot might possibly take the crown of the most successful British play or musical this century—it is a global behemoth. The spine of this phenomenon is palpable—a strong, humble-rooted story, a variety of hard-hitting and upbeat numbers written by Elton John and a remarkably organic coming-of-age drama which challenges the very make-up of our communities. Audiences come and audiences leave knowing they are guaranteed a good time—so how has Foster's reimagination of a relatively recent musical taken those audiences by storm?
The director's fresh revival pieces every element together on a grand stage, heightening big ensemble pieces with sheer scale and multi-faceted layers of storytelling, whilst building intimate and heartfelt beats through mighty performances and production design. It is deftly constructed to maximise the emotionality of powerful numbers like "The Stars Looks Down" and "Solidarity" but allows "The Letter" and "Electricity" to shine through minimisation. Musicians, situated on top scaffolding three levels high, being in sight somehow enhances each performance. In tandem with choreographer Lucy Hind, the result is cannot-take-my-eyes-off-it theatre.
The bare-bones, industrial and stripped-backed set, designed by Michael Taylor, takes plenty from the original production but pushes scale a little further. The incorporation of large, rust-coloured chain-link fences to the stage skilfully provides a metaphor for a world closing in on the mining town, while curtailing Billy's hopes and dreams.
On this occasion, Billy is played by Samuel Newby—one of three young actors following in the ballet shoes of Tom Holland (Spider-Man films), Dean-Charles Chapman (1917 and Games of Thrones) and Layton Williams (Bad Education and Everybody's Talking About Jamie). Newby's performance here is pure and excellent, combining superbly with his dance teacher Mrs Wilkinson (Sally Ann Triplett). These performances are compounded through Joe Caffey's brutally human portrayal as Billy's dad and Luke Baker's tough but vulnerable display as brother Tony.
Foster's concoction is a splendid take with a fresh burst of energy. Made at Curve's Billy Elliot The Musical is a masterpiece of musical theatre. Filled to the brim with talented actors, visionary backstage work and superb source material, Curve has proven the higher the risk, the sweeter the reward—and this really is the cherry on top of the cake.
Reviewer: Jacob Newbury