Billy, the Monster and Me!
Catherine Manford and Sarah Molyneux
Colour the Clours
24:7 Theatre Festival at New Century House
–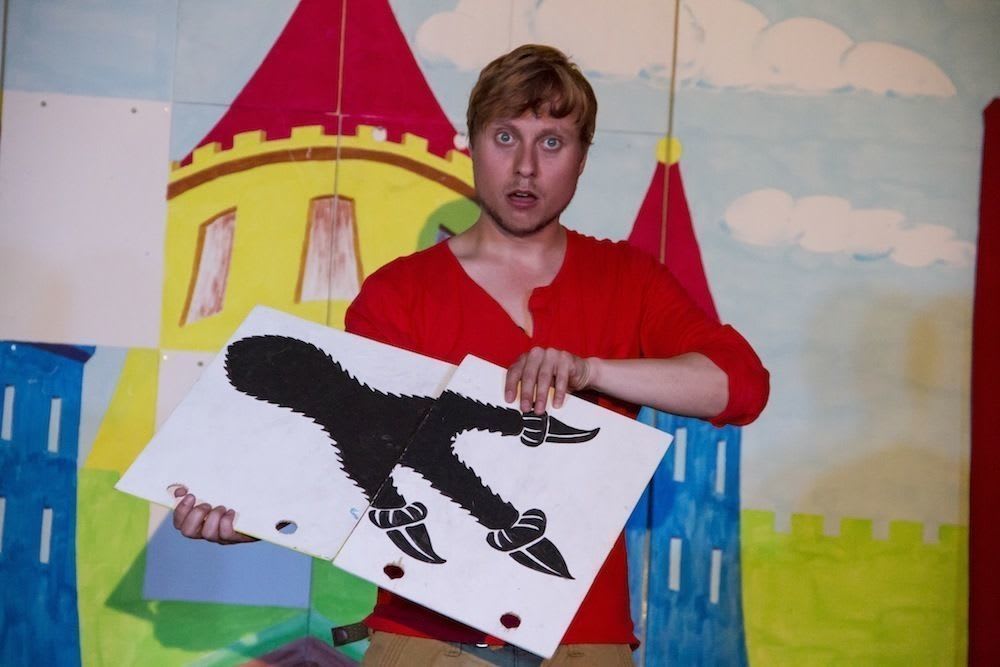 This is 24:7's second children's show after Joyce Branagh's Peggy and the Spaceman two years ago, performed before an impressively full auditorium for a Monday afternoon, even if almost all were enthusiastic adults rather than children.
Nathan Morris is the Billy of the title, an imaginative little boy who argues with his teenage sister Olivia and whose mum and dad are always too busy to play with him. War hero Gramps is more willing to join in his games, but he seems to spend a lot of time napping. A family to which many in the audience of alll ages can relate.
Billy first of all wants to find someone to help him finish building his castle, a mural on the back wall made up of rearrangeable squares. Then he needs to defeat the monster, which he appears to have wished into being and which has started to devour his family, one by one.
Morris is joined by Christable Brown who is superb as Olivia and double as mum and Colum Scott as Dad and Gramps, and there is music by Barney Cooper and Catherine Manford that sounds like it belongs in a children's TV programme.
The play is a sequence of scenes rather than a plot, consisting of chatting to the audience, little flights of Billy's imagination and clowning routines, many of which will be familar to older members of the audeince but which deserve to be revived.
Director Alyx Tole with set designer Eric Molyneux has created a wonderful playground for the actors to practice their silliness. There are some inspired ideas, such as the dragon conjured out of a chair and the gobbling up of the faily members through shadowplay, plus the use of screens to make characters appear and disappear in the middle of the stage is very cleverly staged. However the structure of the play doesn't show these great routines off at their best and it all needs to be much slicker.
The opening promises some exciting audience participation, but then it isn't mentioned again until near to the end. Similarly, the monster doesn't come into the story until very late in the play, and there are some unexplained pauses and times when the audience has to wait for the next piece of inspired buffoonery to be set up, which kill the pace somewhat.
Despite these niggles, there is some great material in here for children and adults, and I hope that the creators will continue to refine it to get the most out of the material.
Reviewer: David Chadderton