Billy Liar
Keith Waterhouse and Willis Hall
Middle Ground Theatre Company
Yvonne Arnaud Theatre, Guildford, and touring
(2009)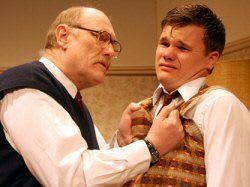 The clue is in the title. Young Billy Fisher is a little economical with the truth – in fact he takes it by the scruff of the neck, throws it in the air, spins it around a bit and transforms it into a travesty of ridiculous inventions that land him in no end of trouble. His most pressing problem when we meet him is that he has inadvertently become engaged to three different girls and, without the expertise of the suave Parisian business man in Boeing Boeing who keeps three fiancées in the air at once, two at least are in the vicinity, about to meet one another - and there is only one ring.
Nathan Hannan was last night's Billy (alternating at different venues with Chris Hannon) and a very credible rebellious teenager, lazy and bored with his job as undertaker's clerk. We have 'Reginald Perrin' style access to his thoughts as he imagines himself in some very prestigious situations - between gunning down his family and bombing the house – each episode accompanied by appropriate sound and music (Mat Larkin) with the whole scene bathed in devilish red light. Hannan takes each character change as it comes, switching smoothly, convincingly and comically between them.
The characters are all meticulously drawn and we can see from the first why Billy needs to retreat into fantasy-land. Grandmother Florence (Sally Sanders) constantly complains about everything, especially what is wrong with today's world and, to her mind, the mistakes in Billy's upbringing. Father Geoffrey (Dicken Ashworth) shouts and swears at him with every word preceded by 'bloody', but avoids the one-dimensional characterisation by still managing to show his caring side, and Helen Fraser (who played fiancée Barbara in the 1963 film opposite Tom Courtenay) is here the perfect picture of a harassed, overworked woman trying to cope with recalcitrant son, belligerent, foul-mouthed husband and irritable old mother.
Barbara is played by Lauren Drummond who should have no fear of catching a cold during this tour with the number of oranges she consumes during each performance, and fiancée number two is Victoria Hawkins who began her acting career in the children's TV series Byker Grove and appears to be a similar character now adult, and taking the fashions of the sixties to heart, in sharp contrast to the tight-suited very correct Barbara.
Michael Lunney is both director and designer and provides an excellent interpretation of a bay-windowed terraced house, opening to reveal the nineteen fifties interior – although written for the sixties they haven't quite started swinging yet. If there is a fault in the presentation it is only the timing of lines which need to be spaced for the audience laughter to subside.
The comedy is undeniably dated but particularly appealed to a Guildford audience who could probably relate in their memories to events and language. Granny's references to blacks being the cause of trouble on the buses are followed by her aversion to a black doctor – not acceptable comments now, but of the period, and Waterhouse's view of life and its absurdities is as relevant as ever it was.
Reviewer: Sheila Connor