Billy Twinkle: Requiem for a Golden Boy
Ronnie Burkett.
Ronnie Burkett Theatre of Marionettes
Barbican: Silk Street Theatre
(2009)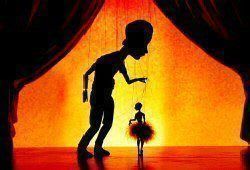 Ronnie Burkett, decorated puppeteer, playwright and performer, offers a one man tour de force which is much more than the sum of its strung-up parts.
Billy Twinkle (breathlessly played by Burkett) is a suicidal cruise-ship puppeteer. Once the golden boy on the Saskatchewan puppet circuit, Billy has fallen into a compromised, commercial cul-de-sac. His spark gone, his marionettes tired and crude (showgirl Rusty Knockers bursts out of her corset), and his career at sea, Billy is tempted by the oblivion beyond the ship's edge.
Enter Sid, Billy's deceased mentor and boyhood hero. Revitalised as a hand-puppet apparition, Sid attempts to galvanise his wilting protégé by replaying (puppet style) Billy's life before him. The ensuing biopic is a bedlam of the comic, the endearing and the absurd, as the extent of Burkett's dexterity and imagination unfurl.
We meet Benji, a twisted ginger modernist about as cool as credit based economies; Brian, Billy's one time boyfriend who cradles a poodle called Mr Hamlet and endorses horizontal stripes for the podgy; Doreen Gray, a bum-bagged fundamentalist whose own hand-puppet (imagine Kermit and Christ fused) espouses dogma in the medium of rap ('His crib is really famous '); and a mental, slippered pensioner with inflatable pink genitals. The list, quite wonderfully, goes on.
This is not, however, a string-based sketch show with no weight. Its totality is a thoughtful and enquiring narrative (Billy's life is strewn with incident) brought to life by Burkett's painstakingly crafted marionettes. The magic of the puppets aside, the play - which is nearly two hours without an interval - stands up on its own. It discusses, with a wry seriousness that tempts one to see autobiography in it, homosexuality, androgyny, the burden of expectation, and the problematic ontology of Art. It is smart, frank, pathetic and fun.
The set is a cardiac affair: a heart shaped stage with love-handle staircases which sweep up to an upper platform from which Burkett - all the while talking to the grumpy old man on his left hand - marshals his subjects. Burkett's vocals are coarse, polytonal, and rich with subtle inflections which conjure a plethora of characters. His vocal elasticity is matched by his gymnastic use of the stage: he writhes around on the floor like a demented starfish, reclines dangerously from staircase handrails, and vaults around in the fashion of a marsupial at a discothèque.
The logistics of one performer handling up to sixteen puppets whilst playing the titular role must, one would think, impede the production's rhythm. Yet the pace remains urgent throughout: during the necessary interludes when Burkett slips off a jacket or swaps a puppet, the orchestral music (John Alcorn) and cabaret-style lighting (Kevin Humphrey) keep a foot on the pedal.
In the same way that animation can capture audience credulity, in Burkett's world realism is borne from the anti-real. When a fifteen year old puppet version of Billy is courted by a paedophile, the scratch of pencil and paper is the only noise in the theatre. I fell haplessly for the marionettes; they had me on the end of a string. One of the production's charms is that nothing is concealed or pretended: Burkett's muffled rants continue when he turns his back to exchange marionettes. The effect, ironically, is a gripping sense of the real. When Sid tells Billy - a knowing steal from Shakespeare - that 'life's a stage, here are your punters', it is the first of many rueful acknowledgements of art's commercial heartbeat.
Art's marriage to the demands of commerce clearly pains Burkett. There is an underscoring question here that demands to be heard: who is puppet and who puppeteer in the world of art and creation? Burkett spies and laments his duality as both manipulator and manipulated. In one of Sid and Billy's more profound exchanges, it is asked whether there is a God-like arrogance behind art's will to control.
Billy's odyssey is also Sid's requiem. We learn that as Billy's career advanced the two grew apart; divorced by their contrasting artistic visions. A younger and puritanical Sid offers a blunt interpretation of Billy's bestial reworking of The Taming of the Shrew/Moo: 'You've taken Shakespeare into a barn and buried him in pig shit.' Yet within the crevices of their antagonism lies a resolute bond. It is almost cutting when we learn that Sid, just before his death, made a bonfire of his legacy: barbequing his repertoire in the backyard. The image strikes a chord: Art is flammable - it burns and becomes ash.
At the dénouement, with Billy revived and Sid finally escaped from his unusual purgatory, a young emo-kid with a transvestite puppet called Rocket asks for Billy's patronage. Will Billy take the aspirant under his wing, and so doing remobilize the cycle of his art?
In Billy Twinkle the Barbican has commissioned a gem. Burkett is a master of finesse, comedy and storytelling. Inimitable and affirming - a sweep of superlatives would not bear this production accurate testimony. If it has faults (sections of John Alcorn's score jar against the play's fizz; one or two gags test the even the most robust of humours) they are forgotten and insignificant amid the raging virtuosity that fills this ship's sails. This show, should posterity own an ounce of wisdom, ought to survive the tempest of time.
Until March 28th
Reviewer: Ben Aitken