Birds of a Feather
By Gary Lawson and John Phelps, and Laurence Marks and Maurice Gran
Comedy Media Company and Quirky Media Stuff Ltd.
New Victoria Theatre, Woking (tour)
–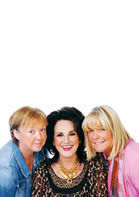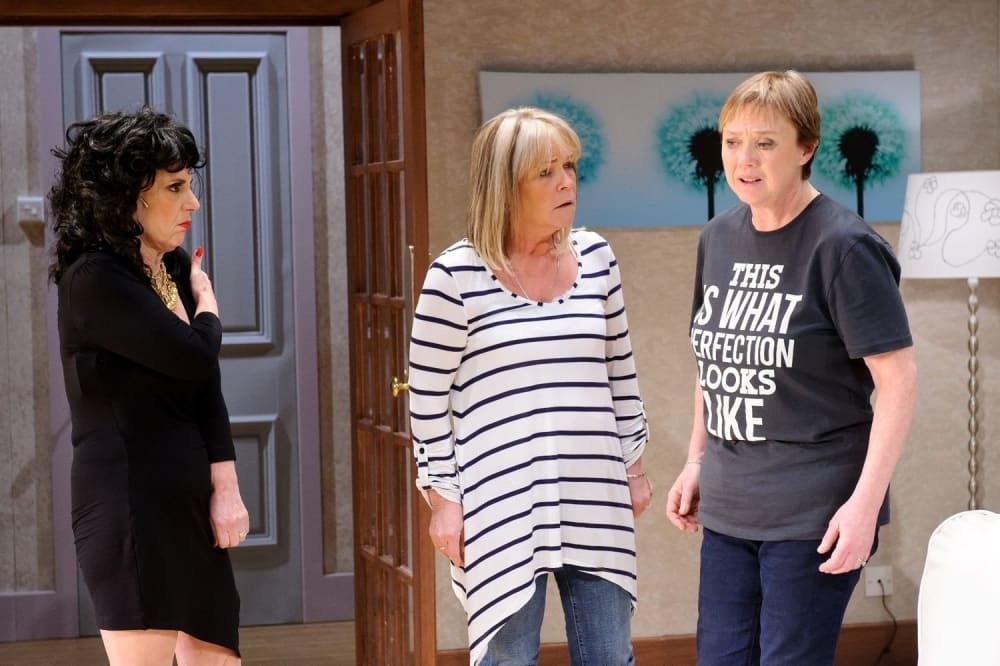 After nine years and 102 episodes, the TV sitcom Birds of a Feather broadcast its last show in 1998, but the 'birds' are back, this time on stage, and it's as if they have never been away. They look the same, they sound the same, and the jokes are—well, not the same but all more or less in the same vein.
When you're on to a good thing you might as well stick with it and the writers have kept the style and situation as before, only this time the 'girls' are a bit older and the jokes involve fading sight and the difficulty of bladder control, as well as suggestive sexual innuendoes when their former neighbour Dorien comes on the scene. 'This is a bit naughty" said the lady on my right—convulsed with laughter.
Back to sharing a flat with both husbands again (still?) in jail, 'Essex-girl' sisters Tracey (Linda Robson) and Sharon (Pauline Quirke) are now joined by Robson's real-life son Louis Dunford, as the cosseted teenage son of Tracey, a role he shares with Quirke's son Charlie Quirke on alternate nights. Stay-at-home Linda has developed agoraphobia, but manages to tenuously hold down a job 'cold calling', despite some rude remarks to the potential customers, but Sharon has just been fired from Lidl's supermarket, a feat that Tracey thought was impossible.
The audience are so happy to see them again that each entrance is greeted by a delighted round of applause, but where is Dorien after all this time? A letter in the mail gives a clue inviting them round to her new address—a retirement home! ''Poor Dorien'' say the girls, the previous man-eater won't have such a choice of toy-boys "now she has changed her open crotch tights for support hose" but they ought to have known better.
When Lesley Joseph's Dorien appears she hasn't changed at all, still snobbish and predatory, and wearing a figure-hugging dress while tottering about on impossibly high heels, and what a welcome she receives from the audience.
Stretching a half hour sitcom to over two hours doesn't always work well and some video projections are included of the bizarre journey to the retirement home, with Tracey's head in a Lidl carrier bag (agoraphobia), but this was unnecessary as the pace never flags for a moment with the girls exchanging the usual sisterly banter and bickering, and the jokes are practically non-stop, but all arising from the situation and delivered perfectly deadpan. These experienced and well-rehearsed actresses know precisely how to time their lines to maximum effect, with Joseph in particular needing only a slight change of expression or a gesture to convey her meaning.
The mysterious death of a rich Mr Zimmerman and a missing father who may be dead all add to the confusion and accusations and recriminations bounce from one to another and back again—never a dull moment and with an unexpected ending.
Perhaps surprisingly, after all this time, it's still a terrific show; originally the first one of its kind to give three women strong leading roles and leading the way for others to follow.
Thoroughly enjoyable and a great laugh from start to finish.
Touring to Stoke on Strent, Bath, Richmond, Blackpool, Malvern, Birmingham, Llandudno, Salford, Bromley, Norwich, High Wycombe, Sheffield and Nottingham.
Reviewer: Sheila Connor