Birdsong
Rachel Wagstaff, adapted from the novel by Sebastian Faulks
Birdsong Productions Ltd and The Original Theatre Company
West Yorkshire Playhouse, Leeds
–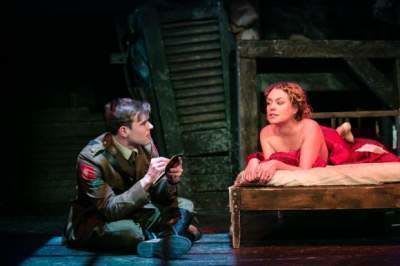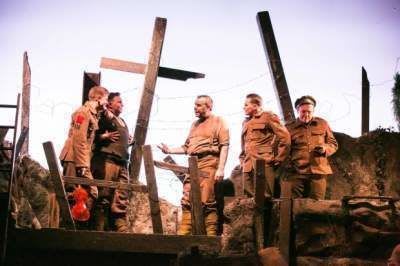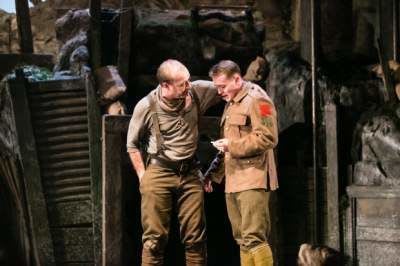 Literary adaptation can be a tricky business, particularly when it comes to transferring a much-loved novel like Sebastian Faulks's Birdsong (1993)—which celebrates its 25th anniversary this year—from the page to the stage. How do you do set about dramatizing a 500-page novel that spans several decades and three whole generations?
Playwright Rachel Wagstaff has wisely chosen to compress the action of the original text by focusing on its central narrative, which takes place between 1910 and 1918. She has also shelved Faulks's chronological approach in favour of an elliptical structure that shifts between memories, thus permitting jumps in time and place.
Birdsong opens in 1916 during the early days of the Somme. At first glance, Stephen Wraysford (Tom Kay), a young lieutenant in the British Army, seems cold and distant. His frosty exterior contrasts greatly with the men around him, particularly Jack Firebrace (Tim Treloar), a boisterous former miner who is tasked with tunnelling underground and planting bombs in the German trenches.
Through a series of flashbacks, however, we soon discover that Stephen wasn't always so emotionally detached. In 1910, whilst living in northern France, he fell in love with a young woman named Isabelle (Madeleine Knight), the unhappy wife of an elderly factory owner. The two lovers ran away together, but Isabelle eventually returned to her family.
Birdsong has enjoyed considerable critical and commercial success since it was first staged in 2010 by Sir Trevor Nunn—its four nationwide tours are a testament to its popularity. Some critics have written about being moved to tears by the production, but I can't lay claim to any such feelings.
I found the central romance between Stephen and Isabelle curiously uninvolving, and this is a significant problem because their turbulent love affair is supposed to be the emotional core of the piece. Although it's difficult to do justice to a lengthy novel over the course of two and a half hours, I can't help but feel that this element of the original text has been ill-served.
Tom Kay did a good job of conveying Stephen's emotional detachment, but I found him less effective in his romantic scenes with Madeleine Knight. There's solid work from the rest of the cast, but the standout performance comes from Tim Treloar as Jack, who powerfully conveys the grief of a father pining for his lost son.
As a portrayal of life in the trenches during the First World War, Alastair Whatley and Charlotte Peters's production is suitably claustrophobic and suspenseful. For the most part, the shifting time periods are staged with clarity and fluidity.
Victoria Spearing's set design, with its barbed wire and wooden crosses, provides a strong sense of time and place without getting bogged down in period detail. Alex Wardle's lighting and Dominic Bilkey's sound design are similarly evocative, particularly when the soldiers go over the top at the end of the first half.
2018 year marks the centenary of the end of the First World War, so this revival of Birdsong feels timely and resonant. I only wish I had found it more emotionally involving.
Reviewer: James Ballands