Birdsong
Sebastian Faulks, stage version by Rachel Wagstaff
The Original Theatre Company and Birdsong Productions Ltd
Yvonne Arnaud Theatre, Guildford
–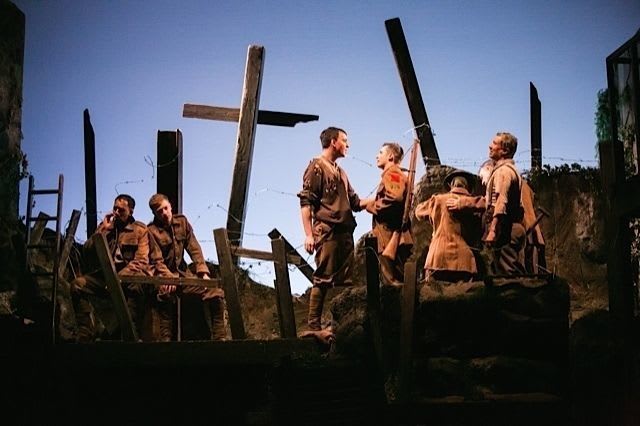 The play opens cheerily enough. The men are laughing, joking, singing and generally enjoying themselves with their mates, until the first shell explodes with a fire and a force which seems to take in the whole theatre and brings home with a vengeance the horror and carnage which was the Great War—a war to end all wars.
Faulks's book is 503 pages long and it takes in several time periods and multiple venues. I would have thought it impossible to stage, but this company, with Wagstaff's brilliant adaptation, together with an outstanding creative team, has produced a real tour-de-force.
Most of the men here are the tunnellers, known as sewer rats. Their peacetime jobs of working down the mines or hacking out tunnels for the London Tube trains were hazardous enough, the danger and the claustrophobia hard to cope with, but their experience made them the right choice for digging about 30 feet down and placing bombs to blow up the enemy from below. In tunnels no more than three feet wide and often no higher, they had to crawl painfully along, carefully digging as they went and trying to keep as quiet as possible. Image a twelve-hour shift in those conditions.
The Germans were doing exactly the same thing from the other side and there was the chance, which did happen, of the enemies meeting face to face and fighting their war underground. If for any reason the tunnel collapsed behind them, their already inadequate air supply would be cut off, rescue could be impossible and they might have to die where they were.
Added to all that there was the mud, the rats, the lice, the total exhaustion and the horror of seeing your mates blown to pieces before your very eyes. Unbelievable what these men had to endure, and in this production we feel we are living it all with them.
Victoria Spearing's set, very cleverly designed and constructed, somehow manages to bring a frighteningly claustrophobic atmosphere with the dark tunnel entrances leading down to unimaginable depths of horror, while still leaving space for different venues and time periods to be played out in front of them. The sky is visible above it all with a stark wooden cross flanked by barbed wire fencing.
The different time periods and venues are produced, lucidly and effectively, in Lieutenant Stephen Wraysford moments of flashback memory back to the time he fell in love with Isabelle, the beautiful wife of businessman Rene Azaire, and they ran away together.
The venues include the Azaire's elegant home, a reluctant visit to a brothel, the hospital where he nearly died, scenes inside the tunnels, some repeated several times as memories surface. Scene changes are performed with such expertise and speed that they seem to meld seamlessly into each other.
Performances across the board are superb, the whole cast pulling together to create a powerful, moving and dramatic production bringing virtual reality to a story which needed to be told.
The most moving and tear-inducing scene being, for me, is towards the end where the normally cheerful cockney Jack Firebrace and Wraysford, injured and starving, had been entombed underground for several days. Suddenly, a German soldier breaks through to them. Both tentatively ready to fight, they end in a warm embrace—just two human beings glad to be alive.
In the final scene, they stand together looking at the sky and listening to the birds. The war is finally over, and could anything be more expressive of it's futility.
Reviewer: Sheila Connor