Bismillah! An ISIS Tragicomedy
Matthew Greenhough
Wound Up Theatre
Vault Festival
–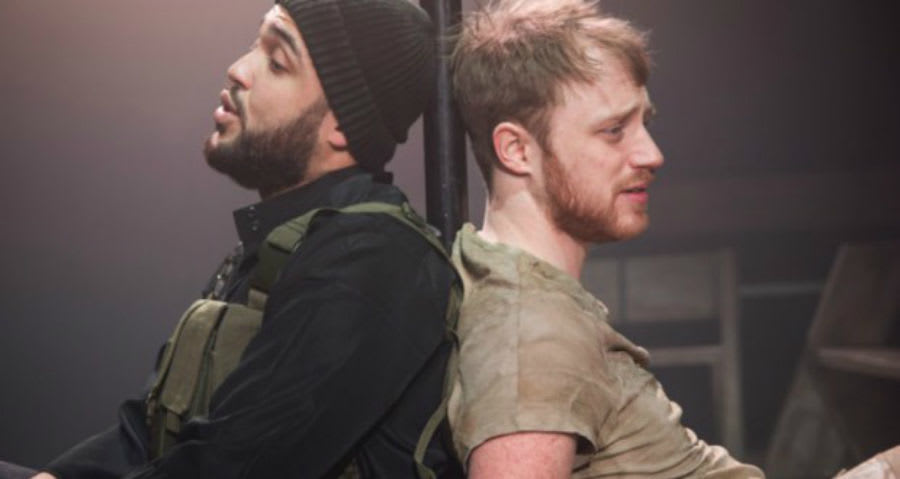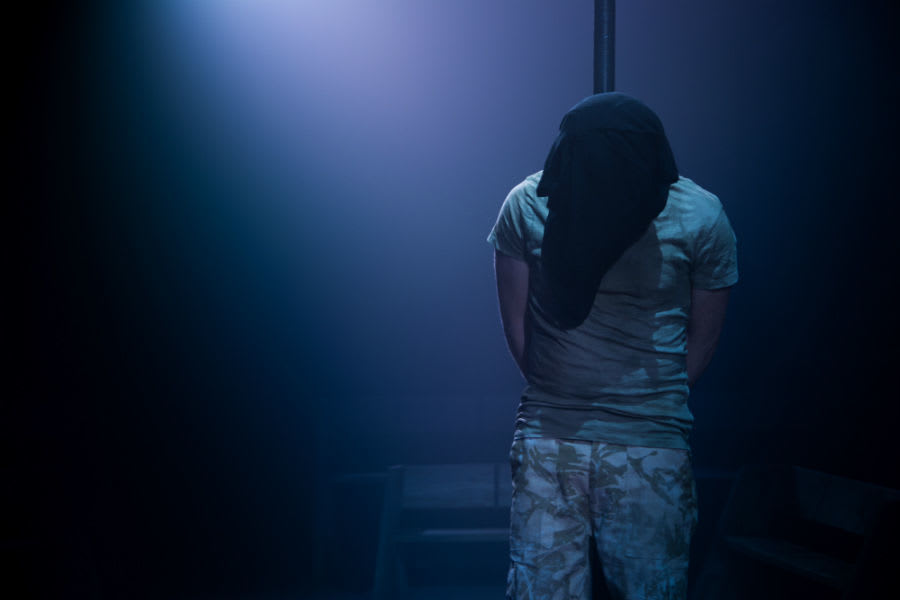 Did you know that members of the ISIS army are human?
If you do, it wouldn't be from what you have encountered in the UK media. But that is the picture we get from Matthew Greenhough's often funny well written play Bismillah! An ISIS Tragicomedy set somewhere in the Middle East.
In the centre of the performance space, a hooded twenty-four-year-old British soldier Dean (Matthew Greenhough) is tied to a metal stake. He is singing Queen's "I want to break free" when the terrifying figure of an ISIS fighter enters his cell.
Dean has no idea how long he has been there but thinks he has been a prisoner in various places for about a month. However, for reasons we never hear, the ISIS fighter has been sent to dispose of him.
For a time, it is Dean who does all the talking to the incredibly tense fighter, but gradually it becomes a conversation. Since the fighter won't for most of the show reveal his name, Dean calls him Danny. (Not something the fighter Amir is impressed by.)
They find they have more in common than they could have imagined. Both are from England, they have worked in Wetherspoons and neither of them really joined their respective armies to fight a war.
Dean just wanted a job and Danny (Elliot Liburd) just "came to help people."
Their conversation ranges across events in their life including Dean's account of how the relationship with his girlfriend ended and Danny's recollection of taking a beating from the racist father of his girlfriend.
When Dean sings Queen's "Bohemian Rhapsody" with its line of "Bismillah! We will not let you go—let him go." Amir (Danny) recognises the Arabic word Bismillah from the Koran and asks with a touch of gentle pride whether Freddy Mercury was a Muslim.
You can see Amir is conflicted. At one point, in anger at the situation as much as with something Dean says, he hits the soldier and almost instantly regrets it. As he gives Dean water, he says, "Bismillah, that's what it's for." (The word is used by many Muslims as a blessing before eating or some other act.)
Dean is also troubled and talks about the guilt he feels for the death of a boy at an army checkpoint when he failed to follow procedure, and as Amir tries to console him we can imagine them in a different place as close friends.
Amir tells him, "you come over here to fight for something you don't really believe in," but then Dean tells Amir that "you're really shit at being ISIS."
There are moments of shocking tension but overall the mood is light and humorous. Matthew Greenhough and Elliot Liburd give a riveting performance. You never want to miss a word though you will miss a few in the poor acoustic conditions of the Vault's cavern.
This is a remarkable play which doesn't fit with the government approach as articulated by the defence secretary Gavin Williamson who said that British fighters for the Islamic State should be hunted down and killed to ensure they never return to the UK.
But then maybe the UK should be following the rules of war they signed up to in the Geneva Convention or better still stop meddling in the affairs of other countries.
Reviewer: Keith Mckenna