Black Coffee
Agatha Christie
Bill Kenwright
Yvonne Arnaud Theatre, Guildford
–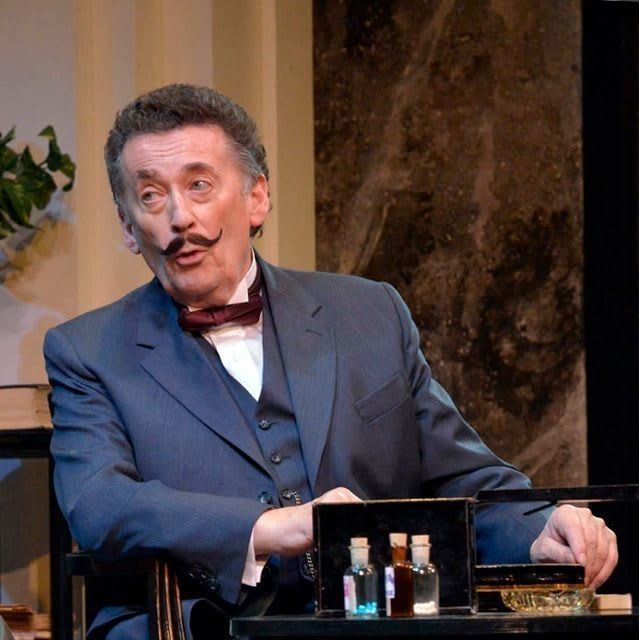 The Agatha Christie Company is dedicated to producing her plays in the original form and as she would wish them to be performed. This time, in its ninth year, it has gone back to the beginning with Black Coffee, the very first play she ever wrote and, surprisingly, the only one to feature Hercule Poirot.
Aside from David Suchet's excellent portrayal of the detective, one of the reasons for enjoying the television series of Poirot was the stylish Art Deco settings. Can this be reproduced on stage? It certainly can, and Simon Scullion has risen to the occasion with a superb, and equally stylish, setting of a stately home in 1929, when the play was written and when it is set. The curtain rose to applause and gasps of appreciation.
There are thirteen in the cast, unlucky for some, especially for the owner of the house, Ric Recate's eccentric inventor Sir Claud Amory, who is well into his stride investigating the theft of his priceless scientific formula when he meets his end. In true Christie style, there are plenty of red herrings, almost everyone seems to have a possible motive for murder and woe betide any foreigners who happen to come to the house. They are immediately mistrusted by everyone else.
"He's a doctor—but only an Italian one" dismisses the credentials of Gary Mavers' Dr Capelli, leading a resigned Poirot to comment gloomily "And I'm only a Belgian detective".
The main suspects in the case are Sir Claud's son Richard (Ben Nealon) who needs money yet says he doesn't, and his wife, a very worried and nervous Italian Lucia (Olivia Mace), but there are plenty more possibles to confuse us.
Liza Goddard plays Sir Claud's sister, Miss Caroline Amory, in a much older part than usual, but she makes the character delightfully vivacious—and bit scatty. His young niece, Barbara, is an even more vivacious and equally scatty Felicity Houlbrooke. It must run in the family. She takes a shine to Captain Arthur Hastings (Robin McCallum), finding him "so deliciously old-fashioned, practically pre-war" and, although he is a little taken aback by this, it doesn't stop him appreciating her advances. Nicely portrayed.
It does take a little while to get used to Robert Powell as Poirot, Suchet is so firmly established in the mind. It was only a little while though before he completely took over the role and made it his own, driving all thoughts of its previous occupant out of sight.
Now to be the tiniest bit 'picky'. The setting is 'the library' yet there is only the smallest of bookcases, and (director Joe Harmston take note) the pernickety little detective would never had stood on a chair with his shoes on without putting down a clean handkerchief first.
Of course there is the Inspector and the constable, and the whole case is finally wrapped up by Poirot in his usual manner, proving how clever he is and the 'little grey cells' are in full working order.
A strong cast, and great direction, keep the suspense and intrigue at full flow, and the whole ends with laughter. Such fun!
Reviewer: Sheila Connor