Black Men Walking
Testament
Eclipse Theatre Company
The Drum, Theatre Royal Plymouth
–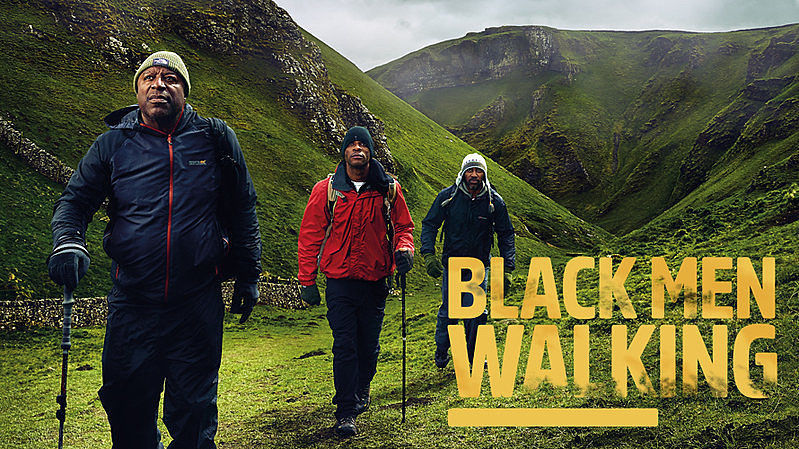 Unsure what to expect, Black Men Walking proves something of a mixture of great delight and dissatisfaction.
Every first Saturday of the month, three men meet to walk the borders of the Peak District, reaffirming their identity and claiming back the 'lands of their forefathers'—and this month is no exception save that Thomas (Ben Onwukwe) is not himself, Richard (Tonderai Munyevu) faces a family dilemma, Matthew (Patrick Regis) has trouble at home—and the weather is changing.
Commissioned by Eclipse as part of Revolution Mix events in 2018 and now on its second UK tour, having sold out last year, writer and musical director beatbox, rapper and MC Testament's piece is experimental and brave. Rap, rambling (both physical and verbal) and race fuse for an exploration of what it is to be black and British.
Walking for fellowship is tested as the trio bickers and jests; walking for pleasure is challenged by deteriorating weather and zero visibility; while walking the line of ancestors and history is personified by Ayeesha (Dorcas Sebuyange), the voice of Millennium youth, who flits through the mist to escape the racial abuse suffered in a fast food outlet but mistaken by Thomas for the preserved 4th century AD mixed-race Ivory Bangled Lady archaeologists found in the early 1900s.
Asking how long one has to be here to be considered British, each has their own story (although at 75 minutes there is, unfortunately, no time to invest in the characters): 'old man weirdo' Thomas has Caribbean roots, a Windrush past, children who have left his Sheffield home for the bright lights of London and a History degree from Huddersfield Poly; Barnsley doctor 'posh boy' Matthew has Jamaican heritage and a white wife who has decamped to her sister's with the children while Trekkie Richard has a backpack full of confectionary and still sends money home to Ghana where the ancient tribes have clear identity and unacceptable practices.
Visceral chants, rap and vocal harmonies add dimension to what could be a very pedestrian polemic as old camaraderie is tested and new relationships are forged.
A highly enjoyable thought-provoking piece ending on a somewhat unsatisfactorily, unbelievable note.
Reviewer: Karen Bussell