Black Men Walking
Testament
Eclipse Theatre Company
York Theatre Royal
–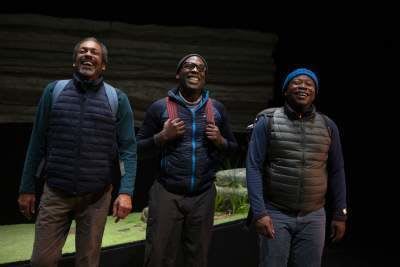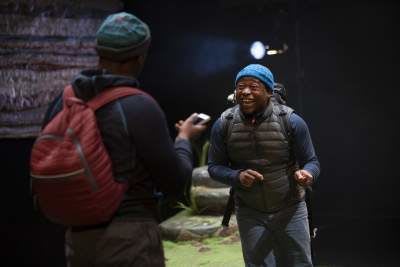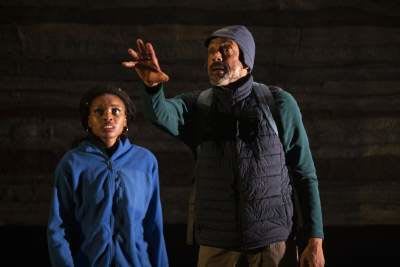 In this poetic 80-minute play—first performed at the Royal Exchange, Manchester last year—Yorkshire-based rapper and theatre-maker Testament uses the true-life story of a black men's walking group to explore what it means to be black and British in the present day.
Once a month, a trio of black Yorkshiremen meet up to explore the rocky landscape of the Peak District. The group consists of Sheffield-based Thomas (Ben Onwukwe), who left the Caribbean as a child and hopes to connect with Britain's buried black history; Matthew (Patrick Regis), a middle-class doctor from Barnsley, who clearly enjoys escaping from his troubled marriage; and Richard (Tonderai Munyevu), a Ghanaian computer programmer with a penchant for Star Trek and chocolate.
All three characters regard these walks as a way of reaffirming their black British identity in a country where their right to belong is constantly being questioned and undermined. As Thomas complains in one particular moment of frustration, "how long do we have to be here to be English?"
During their walk, they encounter 19-year-old rapper Ayeesha (Dorcas Sebuyange), who upbraids the men for not including women in their group and suggests that they walk in order to avoid real political action. The tranquility of the men's walk is further disrupted by a storm that forces them to uncover Britain's secret past.
Black Men Walking is an entertaining and edifying show that fuses prose, poetry and rap to shed light on many of the nuanced issues that surround black Britishness. The racism that black Britons continue to face is powerfully rendered in one of Ayeesha's monologues where she recounts her experience of being publicly insulted in a fast food restaurant.
Testament's writing is filled with linguistic verve, but I wish that it had greater narrative focus. Despite being only 80 minutes, there were occasions where the play seemed to lack a clear sense of direction.
Dawn Walton's well-paced direction keeps the momentum going, and Simon Kenny's hillside set is a joy to behold.
There are beautifully observed performances from all four cast members. Ben Onwukwe strikes the right note of pomposity as amateur historian Thomas, and Tonderai Munyevu demonstrates impeccable comic timing as Richard. Patrick Regis skilfully embodies Matthew's domestic worries, and Dorcas Sebuyange delivers a vibrant performance as Ayeesha.
Despite being overly didactic at times, Black Men Walking is a richly rewarding piece of work.
Reviewer: James Ballands