Black Roses: The Killing of Sophie Lancaster
Sylvia Lancaster and Simon Armitage
Royal Exchange Theatre
Southbank Centre
–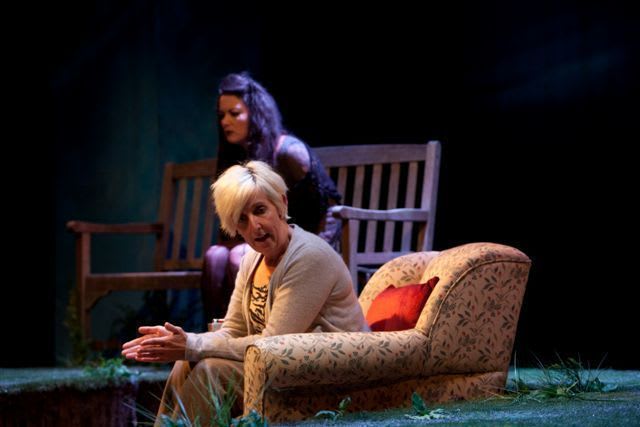 Sophie Lancaster was a young woman who was beaten and kicked unconscious in a Lancashire park in 2007 as she tried to protect her boyfriend. She died from her injuries, though boyfriend Bob survived.
This is an elegy for her, made up of the actual words in which her mother described these awful events interwoven with a sequence of poems by Simon Armitage, which give voice to Sophie.
It is simply presented with just a comfortable armchair and a park bench placed on a carpet and surrounded by Astroturf. Before it starts, the sounds of distant children playing in a park can be heard by an audience gathered on three sides of the playing space. Then the performers enter in a formal way and take position.
Julie Hesmondhaigh is Sylvia Lancaster, Sophie's mother. This is a very concentrated performance, controlled and calm as she describes her daughter, how she heard what had happened and what she experienced, only briefly cracking with emotion that cannot be contained.
Rachel Austin is Sophie, a Goth girl with a difference, full of energy and spirit as she bounds around the stage describing herself with her "banshee makeup and hurricane hair" and delivering Armitage's springing rhythms and strong rhymes as entirely her own.
Two beautiful performances, beautifully matched in Sarah Frankcom and Susan Roberts's production. At the same time a moving record, a picture of a cruel crime, a threnody and a celebration of a lovely girl.
Despite the horror that those black roses on Sophie's body represent, this forty-five minute outpouring is strangely uplifting and I cannot imagine it being better done. I am very glad to have seen it.
Sophie and Bob were attacked for being different, wearing their unique look. The Sophie Lancashire Foundation, se tup by her family and friends, will work to create respect and understanding of the subcultures in our communities and, working with politicians and police, to ensure individuals who are part of those subcultures are protected by the law.
Reviewer: Howard Loxton