The Black Curtain
Devised by Angel Exit Theatre Company
The Rondo Theatre, Bath, and touring
(2008)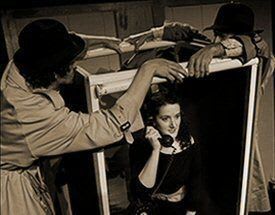 Angel Exit Theatre is a young company formed in 2001 by graduates of Lecoq. Here they explore the formulaic world of Film Noir, complete with a moody narrative supplied in voice over and a cast of mackintoshes, trilbies and the occasional femme fatale.
The plot, written and devised by the company, holds little surprises and at times labours under cliché and clutter. Nevertheless it seemed to satisfy the Saturday night audience, who gave out gasps of surprise, and even a "Crikey!", at the final plot twist, as well as an enthusiastic curtain.
The production is hindered by cluttered staging, which the cast are too often having to move, flip and transform. Not only does this soon grow tiresome, it also threatens to interfere with an already complex narrative line.
That said, where director Tamsin Fessey's Lecoq influence takes firm hold of this production, the evening is lifted into something far more intriguing. Suddenly the cliché of Film Noir is interpreted physically, and to spectacular effect. Without doubt this is the real draw of this company.
Most memorable was the representation of the numbing routine of office life for young reporters Harry (Jonathan Dunstan) and Frank (a promising theatrical debut from John Helier). The moment where Frank first sets eyes on femme fatale Gloria (Lynne Forbes), and the theatrical equivalent of Hollywood's spinning newspaper headlines, are also cause for some innovative and well-imagined physical theatre.
These scenes far out-shine the rest of the play: there is a slick and sturdy confidence about the direction and the performances in these moments which stand in contrast with the rest of the play.
I'd like to see Angel Exit trust in this more: to see them produce something less cluttered, with simplistic staging, in which the cast have room to sustain and to fully-realise this unique brand of intuitive physical theatre.
"The Black Curtain" tours to the Udderbelly, Brighton Festival, Exeter, Portsmouth, St Andrews, Peebles, Torquay, St Albans, Lyme Regis and Highate.
Reviewer: Allison Vale