Under the Black Flag
Simon Bent
Shakespeare's Globe
(2006)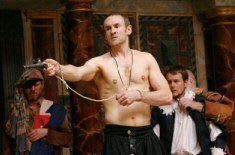 The first new play to be staged at the Globe under Dominic Dromgoole's management is this piratical cum political tract by Simon Bent which purports to tell the story of the early life and adventures of Long John Silver before he lost his leg.
It comes with a health warning about filthy language and bare flesh, but in truth there is not much of either. Nor, since you ask, is there much if anything at all beyond his name (now out of copyright) about the Long John Silver of Treasure Island fame, who in 1755 or shortly thereafter set sail as a sea cook on the good ship Hispaniola and almost got his hands on the buried treasure of Captain Flint.
Bent's main contribution to the Silver legend is to suggest that he earned his 'Long' reputation from an ability to tie his male member in a reef knot, celebrated in a lewd 'Show Us What You've Got' song for assorted delegates at the pirates' North African parliament in session.
Bent has borrowed the names of Robert Louis Stevenson's 18th century buccaneer band — including Ben Gunn, whose known partiality for a bit of cheese, 'toasted' according to RLS, pops up throughout the play.
But he sets them against a political landscape of 1649 when Charles I has just been topped by the Commonwealth, Cromwell rides roughshod over people and Parliament, while the self-governing corsairs of the Rabat Sale republic in Morocco are playing havoc with English bullion shipments from the Americas.
He also kills off Black Dog at sea, which is a bit awkward given that as a significant character he has to turn up more than a century later to give a cutlass slash or kick start to Stevenson's novel.
In Bent's play Silver makes his first appearance as a Leveller, one of many protesting groups, all determined to win the democratic fruits of the Civil War. But his special qualification is as as saintly advocate of drink, dancing and fornication as the quickest route to heaven. It also proves his quickest route to the press gang and a sound flogging on the deck of the navy vessel, The Lion's Whelp, commanded by Captain Mission.
Mission, played with huge comic uppitiness by Robin Soans, is fated to become Silver's lifelong enemy when his son Harold is shot by the renegade Silver who has signed up to join a marauding band of pirates, led with swashbuckling swagger by husky-voiced Nicolas Tennant as Kees de Keyser, Silver's future rival.
In addition to this trio of hatred and rivalry, the play then becomes a string of undigested and not entirely coherent incidents involving, among many others, Silver's daughter Ann (Jane Murphy) signing on as Roger the cabin boy (cue for laughter); alarums at sea; and a performance of Shakespeare's Hamlet as a slave traders' shipboard entertainment.
We also watch with disbelief the sight of Silver as a doting lover to Jacqueline Defferary's Isabelle in a silk gown and crinoline; and his gobsmacked conversion to Islam after being doubly enchanted by Muslim music and the gorgeous Sula (Akiya Henry), daughter of the Sultan of Morocco.
In a programme note Bent admits that he has 'tried to write the play in favour of Islam, to puncture the current prejudice that it is intolerant and backward looking'.
Instead this adds another insupportable layer to the chameleon character of Long John Silver, and it is a tribute to Cal MacAninch that he manages to command centre stage despite an amorphous collection of personality traits that never add up to a rounded believable character.
The main success of the evening, directed with fluency but at excessive length by Roxana Silbert, largely lies with a collection of original pirate songs set to a score by Orlando Gough, not to mention one for a troupe of helmeted Roundheads, who in best Gilbertian style offer: "We are the major model/Of a modern moral army" as their character reference, shortly before Cromwell (the bearded John Dougall, nary a wart in sight) stomps on to take command.
Bent's script also borrows from several other sources, and Bardophiles will pick up brief quotations from such as Lear, Twelfth Night, Comedy of Errors, and perhaps the odd line from the Authorised Version of the Bible.
In fairness I should perhaps add that the groundlings laughed out loud at every comic turn of events, not least the moment when Silver, about to kiss the cabin boy, discovers that this is his own much loved daughter. Oh, dear.
Reviewer: John Thaxter