Blackout
Davey Anderson
ThickSkin Theatre Company
The Core, Corby Cube
(2011)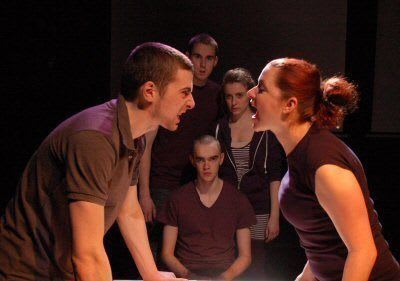 Recently a new young theatre company performed at the Core at the Corby Cube. ThickSkin's production of the brilliantly simple Blackout by Davey Anderson is fast paced and lively - it feels as though (and perhaps this makes me sound old?) this is a young person's piece of theatre: made by young people for young people. Some may argue against this - but I think it is wonderful.
Wonderful because of the commitment and energy shown in the performance. Yes this is multi-media, fast paced, sometimes noisy and brash theatre but it is theatre that still holds what is important at the centre - telling the story.
Blackout is based on the playwright's interviews with a youth offender from the East side of Glasgow. James' (the protagonist) narrative is full of pain, hatred, anger, love and loss. Thick Skin manage to capture all of these things without losing the beating heart at the centre of the breakdown.
Perhaps this is due in no small part to the committed ensemble, who move seamlessly between scenes. Maybe it is the performance of Tom Vernel as James - he embodied the role in such a way that it was difficult to imagine this being anyone else's story (or role) - his was a truly captivating performance.
There were moments of real pathos - the passing of James' Grandad was well staged and emotionally truthful. The use of video projection was also effective in that it didn't feel as though it had been used just for the sake of using video. The films often highlighted the important parts of the character's change from 'shy, nerdy boy' to punk - the shaving of the head moment was very strong.
As a company just starting out (one year old this month) it is refreshing to see interesting work. The artistic director, Neil Bettles and producer Laura Sutton (both of Frantic Assembly), have used their skill and knowledge in Blackout and this is certainly clear to see in the working of crescendo in the performance, which is executed brilliantly.
Perhaps if there is one regret, it is the lack of movement sequences in the piece - when used they were extremely effective and seemed made for Blackout. They seemed too few and far in between and it will be interesting to see if this is something developed in future work.
A real coup for Corby this and on the evidence of Blackout we could be hearing (and seeing) more of ThickSkin in the future.
Reviewer: John Johnson