The Black and White Ball
Book by Warner Brown, music and lyrics by Cole Porter
King's Head Theatre
(2008)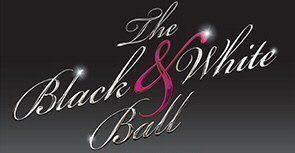 This is a new musical with old songs. Not another script written around a rock band's hits but one that takes such real golden oldies as 'What Is This Thing Called Love?', 'Love for Sale' and 'All of You' - songs from a dozen different shows - and fits them into a new story line. The lyrics don't particularly fit into the plot line but the songs match mood and character and are often used, especially when sung by a pair of cabaret vocalists, just to create atmosphere. In delivering the cabaret numbers Charles Shervill and Liza Pulman are one of the delights of the evening. There is also an hilarious rendering of 'Give Him the Oo-La-La' done in drag by Mark McGee as cod-French Lottie and McGee, Shervill and Pulman's camp version of 'Can-Can' is a real crowd pleaser (choreography by Ken Oldfield).
Warner Brown describes his show as 'a musical mystery' and sets it in the cabaret bar of a New York hotel which is about to be demolished. Here a young woman, Leah (Kaisa Hammarlund) meets the ghost of her step-father (Chris Ellis-Stanton), who was shot dead here 17 years earlier in the late 1940s just as he was about to deliver the manuscript of a new novel as the highpoint of a masked society ball.
Gossip pointed to Leah's mother as the murderer, but it appears the case never went to court. Who did do it? But this isn't really a 'Who-done-it?' There are no detectives -- and no evidence until the very last moment. Most of the show is a flashback story of how her publisher-heiress mother met a naïve writer from the sticks, made his first novel a success and then married him. He bonds with child Leah (I think I saw a very confident Bethany Lloyd-Perks, who alternates with Lillie Bone) and befriends the gay drag artist - the publisher catches them kissing - who helps him when he gets writer's block.
Neither publisher-writer relationship nor that with the gay performer seems entirely believable - but then real life often isn't either and this is patterned on the pre-Second World War type of musical not the gritty music dramas. There is no attempt to pursue the possibility of a bisexual personality or take a real look at the country boy coping with New York life which would add more interest to the simple story. You just have to go along with the writer and director (Matthew White) and believe that a publisher would take on a book they had never seen a page of, not even a synopsis, and that a complete manuscript would fit within the elegantly thin Tiffany box it is supposed to be locked in.
I'm not going to reveal the 'mystery'. There are two really, and you'll probably guess them both long before the dénouement. This is a pleasant enough evening that moves smoothly from scene to scene with the help of a curtained rostrum that reveals new locations in Charlie Gridlan's all-purpose set, carefully lit by Rick Fisher. It is accompanied by a lively quartet under Musical Director Mark Bousie - and there are some lovely frocks. The pace is such (or maybe there have been cuts) that it runs considerably less then the two hours thirty (including interval) given in the programme, which is probably to its good.
At the King's Head until 4th May
Reviewer: Howard Loxton