Blanc de Blanc
Conceived by Scott Maidment, choreography by Kevin Maher
Strut & Fret
London Hippodrome
–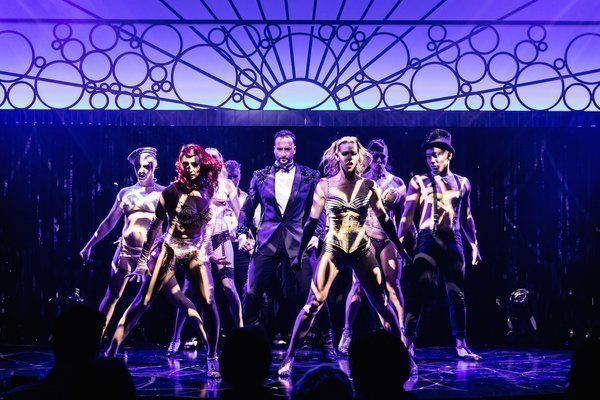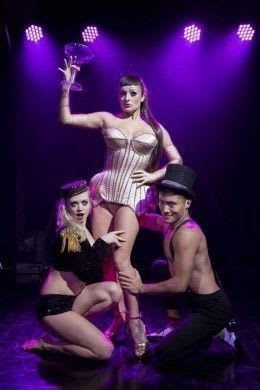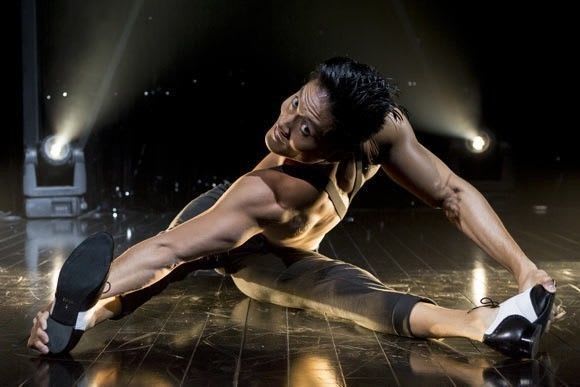 Blanc de Blanc is promoted as "sizzling circus" but, though it features speciality performers, the emphasis here is more on intimate burlesque than on circus variety. It takes full advantage of the Hippodrome's cabaret theatre to make this a close-up, at times even immersive experience.
MC M Romeo (just get those shoulders and biceps) introduces the show in French and in true Gallic fashion. Sidekick clown Spenser Novich suggests that the audience don't understand so he switches to English, though Romeo admits that's just as incomprehensible.
It's a bubbly show that pushes its titular champagne theme. There are frothing ejaculations of Moët (too many to be freshly funny, too few to make a running gag but all crotch couched). Though the bubbles in the on-stage jacuzzi are plastic there is an intriguing new take on pouring a champagne fountain. Sexual allusions and plenty of bare skin are frequent.
Though created in Australia, its performers come from all over. Milena Straczynski and Hampus Jansson are a traditional aerial act who gracefully spin suspended (though even they have an erotic ending). Masha Terentieva, as jaunty as her pillbox hat, winds herself around a luggage cart with skilful balance and gymnastics. Shun Sugimoto combines breakdance with contortion with perky provocation. Emma May Gibson is a showgirl with her own muscular specialities and Laura New and yet more glamour.
Spencer Novich mixes mime with contortion and manages both body- and lip-synch to a cleverly edited tape sampling a mix of many songs and sound effects and J'Aimine joins in as well as having her own spot.
A lady clad in countless balloons gets them popped by rolling all over the audience, another manages to hide her head and then her whole body inside a large one and huge balloons get the whole audience playing. Nipple tassels twirl to take off and a butt plug sprouts a sparkling firework. There's plenty of what the tabloids used euphemistically to call glamour to more than leer at and, for those with different predilections, lads in feline leather-clad outfits seek out those who might like paw contact.
Though some naked moments are comically coy, this show is far from titillatory: it is bold and brassy with a camp self-awareness. Director Scott Maidment, together with choreographer Kevin Maher, ensures there's never a waiting moment. Numbers follow each other slickly, a shadow play holds the attention while the stage is cleared of equipment, an audience incursion distracts from mopping up spilt "champagne".
M Romeo and the style of Philip Gladwell's design give an impression of French chic but, rather than Parisienne sophistication, Blanc de Blanc sets out to offer a good night out and seems to have hit on just the right combination to suit an audience who want to party with some of them being pulled into the show, a sing-along "I Will Survive" and everyone invited to join in and take a "selfie" with the member of the cast they fancy.
It isn't the greatest circus, though the acts themselves are good and multi-talented in what they contribute to the whole show, but it is fun and will be better when it has made its opening less obviously condescending.
Reviewer: Howard Loxton