Blasted
Sarah Kane
Theatre North
Customs House, South Shields, and touring
(2006)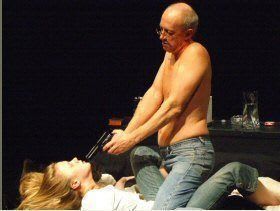 In the twelve years since its first performance at the Royal Court's Theatre Upstairs, many of the incidents in the play, dismissed at the time by critics like the Mail's Jack Tinker as being nothing but a childish attempt to shock, no longer hit us with the force that they did then but nonetheless the play retains its power to horrify with its bleak portrayal of humanity.
Indeed, now that the shock has faded, twelve years on is a good time re-evaluate Kane's first play. Beyond the bleakness of her vision, which sees the seeds of the atrocities of Vietnam, Bosnia, Kosovo, Lebanon, Iraq, Ruanda and many another conflict throughout the world in a Leeds hotel room, we can now recognise her contribution to dramatic form: the alienation effect of speaking the stage directions as they are performed; the collapsing of time and space; the use of increasingly short scenes and images in the second half when the naturalism of the first gives way to a kaleidoscope of images of man's inhumanity to man; the references to King Lear and the Bible; the way in which sexual politics and realpolitik converge; the faint flickerings of some hope for mankind in the gentleness of Cate to Ian at the very end.
The power to offend is much diminished but the power to move the emotions and make us confront the evil inside is enhanced. Watching Blasted is a cathartic experience, for pity and fear are very much to the fore.
Theatre North's production, more simply staged than some (Thomas Ostermeier's Berliner Schaubühne production - Zerbombt - which Philip Fisher reviewed at the Barbican last year, for example), concentrates our attention on the performances and the cast (director Martin Lewton as Ian, Victoria Bavister as Cate and Ben Matthews as the Soldier) are utterly convincing.
This was a first for the Customs House: possibly (I can't be entirely sure of this) the first time the play has been seen in the North East and very definitely a change in the type of play presented by the theatre - earlier this week the production was Hull Truck in Godber's Perfect Pitch. However it is a change which worked: the largest audience for a play at the venue for a long time and a whole new audience, drawn from throughout the region.
One minor - but very telling - point, which says an awful lot about the way our society is going: in a play which presents us with full frontal nudity and graphic scenes of masturbation, oral sex, rape, buggery, cannibalism, torture and suicide, the company felt it necessary to note in the programme that "Cigarettes used in this production are herbal". Are we so desensitised to horror that the only thing we need to be reassured about is the non-use of tobacco in the play? Puh-lease!
Touring to Settle (7th Feb), Aberystwyth (8th Feb), Norwich (14th Feb), Leeds (20th - 24th Feb) and Lincoln (28th Feb).
Reviewer: Peter Lathan