Bleak House
Charles Dickens, adapted by David Glass
David Glass Ensemble
New Wolsey Theatre, Ipswich
–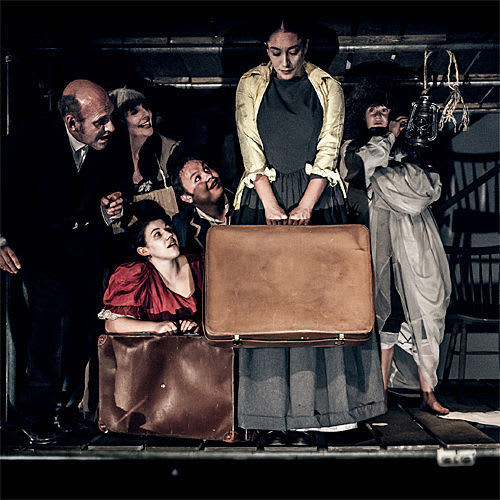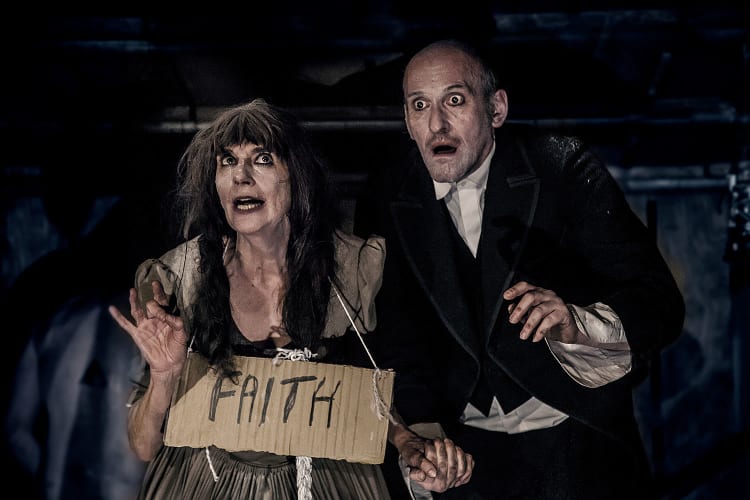 Bleak House is one of my favourite novels by Dickens and this is an incredible portrayal of it—but if you were expecting a classic production of the story you would have been disappointed.
David Glass Ensemble specialises in physical theatre retellings of the classics but in a challenging and confrontational way. So this is Dickens in the raw—emotive, visceral and full of dirt, vomit and excrement.
A company of ten performing on a set consisting of wooden planks and trapdoors over two levels of scaffolding brings to life the story of orphan Esther Sommerson, her life at Bleak House with her guardian, the tortured John Jarndyce, and the intricacies of a plot around a convoluted legal case that has kept two families at loggerheads for years.
Bleak House has a very complicated plot with myriad characters who nevertheless all play a vital part in the story, but all the essence is there in this production which cleverly uses chorus to cover some scenes and move the story along, but where necessary there are touching interludes between the main characters, sometimes grubbing in the dirt-covered stage, sometimes hanging from the scaffolding beams, but always full of emotion and meaning.
All the actors are amazing—and in many respects this is a team production—but Aimee Pollock stands out as the main protagonist Esther, Aimee Kember is a very touching and believable Jo, Derek Elwood a disgustingly wonderful Sir Leicester Deadlock and Penny Dimond a delightful Miss Flite.
The costumes tell their own tales of the lives the characters had lived, getting more and more grubby as the evening wears on. There are some scenes that work better than others, but on the whole the pace keeps the production moving along and the visuals are so mesmerising that time seems to escape through the holes in the trapdoors.
This isn't a production for the fainthearted—or those easily offended—as there is plenty of strong language and sexual references and at one point a naked man with his modesty just about covered by a cardboard sign.
But for those who like their theatre to be fresh, inspirational and challenging, this is pure gold.
This tour has now finished, but if you get a chance to see this company again I would grab it with both hands.
Reviewer: Suzanne Hawkes