Blind Man's Song
Guillaume Pigé
Theatre Re
Pleasance Dome
–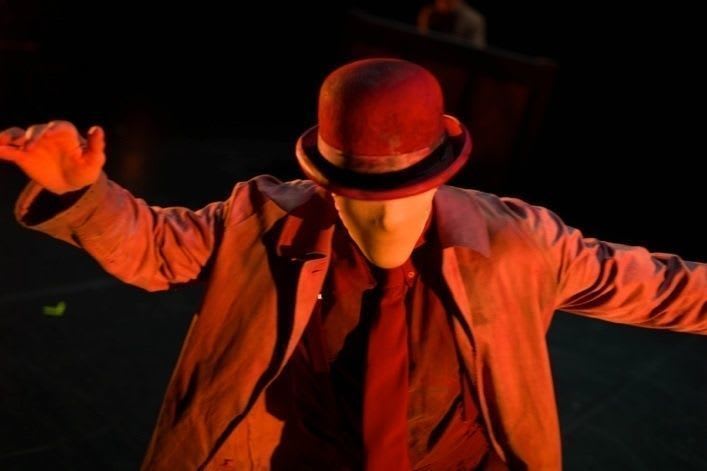 When one goes to a multi-million pound show, one's expectations are high and usually met or exceeded. It's what one "expects".
But most of the new titles on the Fringe are met with little expectations; the audience wishing, hoping that each show will be worth the time and money spent. Therefore when one sees a show that is wildly beyond ones expectation, let's, at the very least, bang the drum.
Such a show is Blind Man's Song. Re Theatre, a London-based theatre established in 2009, displays the sophistication of well-oiled company. Blind Man's Song is delicious. We're not sure what we're watching but we know it is unique.
"If you are looking for infinity, just close your eyes." (Milan Kundera) But I found this much closer to home. The subtlety of the production and performances allow for and encourage individual interpretation. One can just enjoy the dance and music or be swept away by reaction and interpretation. It asks a lot and says a lot.
Blind Man's Song is infused with the here and now. It seems to ask you examine your environment and your relationships. And senses. Every sound and sight should be examined and experienced. Everyone walks away with something different. The microcosm of infinity.
The company and this production is muscularly fragile. This production is brittle while being very fluid. The music by Alex Judd is hypnotic without being intrusive or distractive. The performance is more a choreographed dance. It was in my head the rest of the day.
Director Guillaume Pigé has made good use of his performers: Alex Judd, Guillaume Pigé and Selma Roth. The production values (lighting by Katherine Graham, costumes and props by Milik Ibheis and set by Peter Bennett) are simple and functional.
Reviewer: Catherine Lamm