Blithe Spirit
Noël Coward
BlackBox Theatre
ThatchamNature Discovery Centre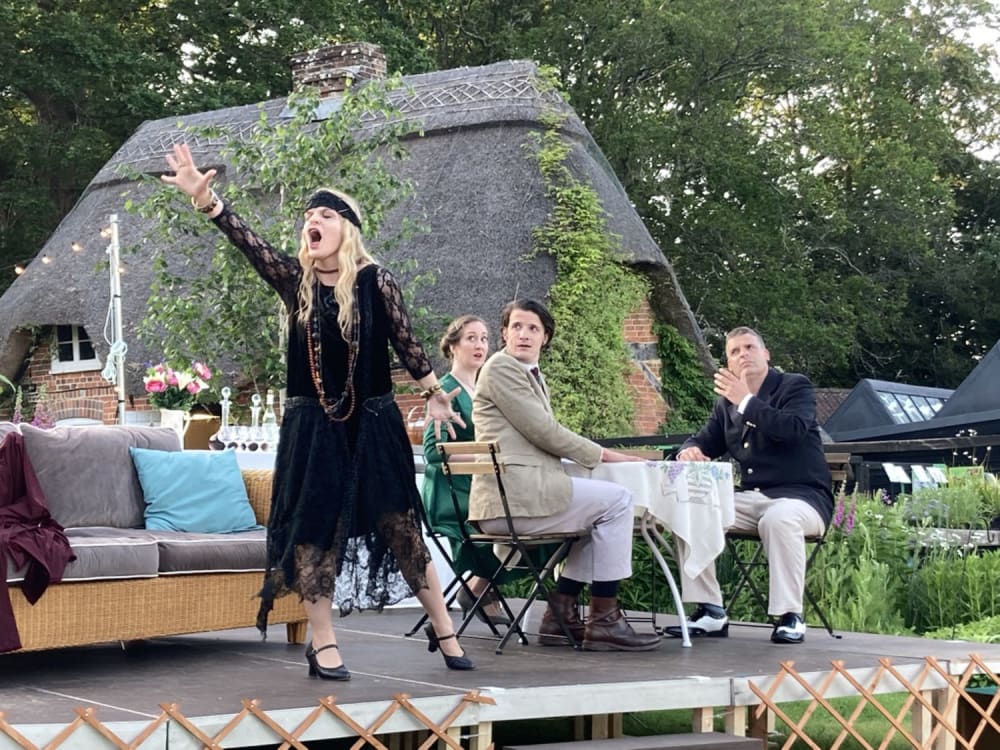 The Corn Exchange continues its summer outdoor season with BlackBox Theatre Company's production of Noël Coward's Blithe Spirit at The Nature Discovery Centre.
First performed at the Manchester Opera House in 1947, this quintessential witty English play is filled with wonderfully created characters and a comedy plot worthy of pure farce.
Novelist Charles Condomine, a superb pompous portrayal by Peter McCrohon lives with his second wife Ruth, passionately played by Anna Mallard. As part of his research for his latest novel, irascible Charles has invited the sceptic Dr Bradman (David McCulloch) and the eccentric spiritualist Madame Arcati to their country home to conduct a séance.
Francesca McCrohon is an absolute joy, bringing a vitality and exuberance to the role. From the moment she arrives on her cycle, dressed in a bohemian red velvet coat and black dress, she commands attention.
But all doesn't go according to plan when, whilst dramatically going into a trance, she accidently summons Charles's dead first wife Elvira by mistake. The problem is that only Charles can see Elvira, which leads to much misunderstanding between him and Ruth and the conversations between all three are hilarious.
Amelia Sweetland, as the spirit of Elvira, elegantly dressed in ghostly grey, is still in love with Charles and jealous of his marriage to Ruth. She seductively tries to win him back and causes chaos, much to Ruth's angst. She is convinced that Charles is going mad and arranges a meeting with Madame Arcati to see if she can help to get rid of Elvira.
Meanwhile, Elvira has a plan to ensure that Charles "crosses over to the other side" to join her but her scheme is thwarted as Ruth is killed instead in a motor accident and returns as a ghost. Charles is now faced with having two wives, albeit ghosts, to live with but how are the three going to get on together?
They once again ask Madame Arcati for help but the results are surprisingly unexpected. I really can't reveal the dénoument.
Running, quite literally, through the production is the bespectacled maid Edith (Scarlett Briant), whose singular reply to questions is, " yes 'um" and revels in this comic role with a delightful flair.
Chris Hawley skilfully directs this highly enjoyable production, and thankfully the predicted rain didn't arrive!
Reviewer: Robin Strapp