Blithe Spirit
Noël Coward
Theatre Royal Bath Productions
Theatre Royal Bath
–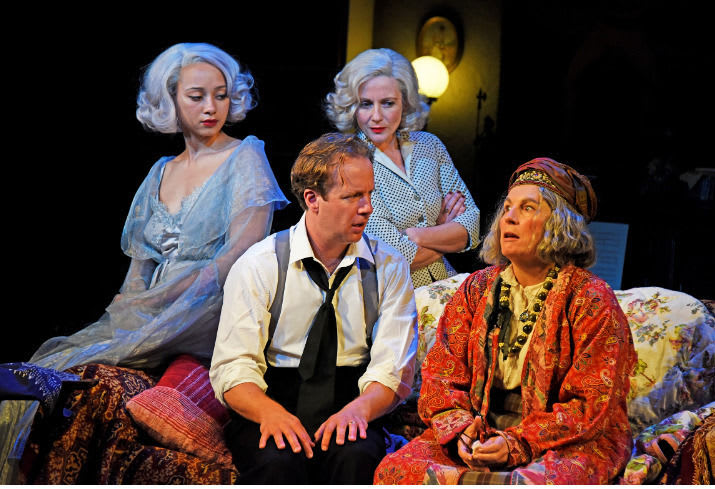 Theatre Royal Bath's 2019 summer season has begun with an emphasis on the supernatural; while Cassandra predicts the future in Vanya and Sonia and Masha and Spike at the Ustinov Studio, in the main house Jennifer Saunders brings back the dead as Madame Arcati in Noel Coward's Blithe Spirit. Perhaps this speaks to an overwhelming need for escapism right now, but in both spaces the intervention feels divinely welcome.
In 1941, with his London office and flat destroyed in the Blitz, Noël Coward decamped to the Welsh village of Portmeirion for a short holiday and penned Blithe Spirit within a week. As a distraction from the horrors of World War II, his comedy proved an instant hit with the public and over the decades it has been revived many times. Though tricky to stage and light with its ghostly interludes, here Anthony Ward's towering book-filled set inspires confidence from the first.
Charles Condomine is a novelist and, in researching his latest book, he invites eccentric medium Madame Arcati to conduct a séance in his home. He and his second wife Ruth are sure she's a fake, smug in the condescension they share with their dinner guests, Dr and Mrs Bradman. Charles's objective is to pick up some appropriate jargon and tricks of the trade, but when Madame Arcati inadvertently conjures up the spirit of his dead first wife Elvira, the stage is set for an evening rife with marital discord and unexpected complications.
Geoffrey Streatfeild and Lisa Dillon as Charles and Ruth are the archetypal Cowardian couple: verbally jousting, witty and knowing, but more than a little cold-hearted. Their marriage works because they are both beyond the first youthful throes of passion—but in questioning Charles about his previous wife Elvira, Ruth portrays a jealousy that will come back to haunt her.
Simon Coates and Lucy Robinson are properly upright as the sceptical Dr and Mrs Bradman, providing a conventional contrast to the force of nature that is Jennifer Saunders as Madame Arcati. Grey-haired and dowdy but red-cheeked from her bicycle ride, fanning herself wide-legged while downing the dry martinis, she draws all eyes to her meticulous portrayal of a comical, eyebrow-raising but real woman with visions of ectoplasmic manifestations, living outside of all 1940s norms.
Charles is in the eye of the storm; the only person who can see and communicate with Elvira, an ethereal spectre of silvery gauze waspishly portrayed by Emma Naomi. Their conversations lead to a comical love triangle of misunderstanding and disharmony with Ruth, but the cracks in Charles's first marriage soon begin to resurface as Elvira settles in for the long term and her attempts to ensure they are together forever go badly awry. Madame Arcati is at a loss to reverse the turmoil she has unleashed, but help is at hand in the form of the hapless maid, Edith, played with immaculate comic timing by Rose Wardlaw.
Howard Harrison's lighting is flawless and the supernatural effects leading up to the final scene are simply but gloriously wrought. Coward has long been a staple of the Theatre Royal's summer seasons, yet his plays are difficult to stage outside their original era, and so can feel dated and overly reliant on the writer's indubitably incisive wit. Not so here; this revival, under the distinguished direction of Richard Eyre, provides exceptionally fast-paced, illuminating comic entertainment—the most spirited production of a Coward play seen in Bath for many a year.
Reviewer: Claire Hayes