Blithe Spirit
Noël Coward
Nottingham Playhouse
(2009)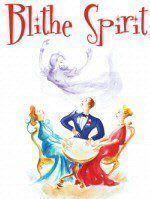 When a director gets hold of the text of a play which has been performed countless times over the 60-odd years of its life, there must be an overwhelming temptation for him or her to take it apart so that it's almost unrecognisable. Thankfully Nottingham Playhouse's artistic director Giles Croft decided not to do that with Blithe Spirit which is being performed at the theatre for the first time in fifty years.
He writes in the programme that the reasons why it's still one of the best-loved and most widely-performed plays in the repertoire are simple: "it is clever, funny, well-plotted and psychologically accurate, and it still has the power to surprise."
If anything, Croft's production, set in the late 1930s, veers on the restrained - the ending, for instance, might have been far more spectacular as the spirits set about destroying the Condomines' house. But maybe the director didn't want to detract from the solid performances from the seven actors on stage.
There's plenty of experience in the cast, none more so than from Liz Crowther. In previous productions she's played both Ruth and Elvira; now she turns her skills to the medium Madame Arcati.
Although she displays a degree of eccentricity and dottiness, she never goes over the top, nor does she resort to the kind of uncontrollable gestures which would relegate the role into the realms of stereotype. In fact she's almost a new-age spiritualist, eager to play her part in saving the planet but not entirely committed to the cause.
Lucy Robinson (Ruth) and Clare Swinburne (Elvira) are poles apart and give excellent, contrasting performances as the two Mrs Condomines. The slightly older Ruth is dependable and level-headed while the glamorous, mischievous Elvira turns out to be demanding and self-centred.
The object of their affection is husband Charles, played with profundity by Giles Taylor who goes from the assured writer inviting Madame Arcati to his home so that he can research his new book to a near wreck as he struggles to cope with not one but two demanding wives.
There's good support from Robert Benfield and Joan Moon, the Bradmans who help to move the story along but aren't given particularly taxing roles by Coward.
The youngest member of the cast is Sophie Ellerby who gains laughs as the new maid Edith, shaking because she's so nervous about her position yet also rushing around breathlessly as if her speed at completing her duties will impress her employers. I recently saw her in New Perspectives Theatre Company's presentation of Laura Lomas's Wasteland at the start of its Midlands-wide tour. With a film and television performance already behind her, she could well have a very promising future.
Croft, who's celebrating ten years as Nottingham Playhouse's artistic director, has come up with a well-rounded production which doesn't take any risks yet allows Coward's incisive text to be the driving force.
It justifies the theatre's decision to revive the play and puts you in high spirits throughout.
"Blithe Spirit" runs until Saturday, September 26th
Reviewer: Steve Orme