Blithe Spirit
Noël Coward
Oldham Coliseum
(2009)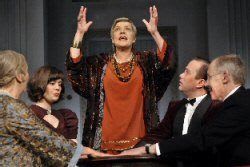 Robin Herford directs the play that topped this year's audience poll to find out which play they would most like to see at The Coliseum: Noël Coward's Blithe Spirit.
Author Charles Condomine and his second wife Ruth have invited the Bradmans over for dinner and, as research for Charles's next mystery novel as well as a bit of amusing entertainment, they have also invited medium Madame Arcati to conduct a seance. However the theatrical hocus pocus of Madame Arcati conjures up the ghost of Charles's first wife, Elvira, who died seven years earlier, but only he can see or hear her. After eventually persuading his current wife that his first wife really has returned, there are inevitable tensions caused by her reappearance, and then questions about exactly why she is back and whether she really had nothing to do with her return to the land of the living as she claims.
On Michael Holt's wonderfully-detailed and authentic-looking set of an upper-class drawing room, Robin Herford's direction keeps the action moving swiftly along with the quick-fire comic dialogue delivered at a perfect pace.
Emily Pithon is exceptionally good as Ruth with a perfectly-judged performance from the relaxed wife through all the various levels of hysteria and superb comic delivery. She is given good support by Mark Healy with his very laid-back portrayal of her husband Charles. Alwyn Taylor comes in like a whirlwind as the eccentric Madame Arcati. Amy Hall is suitably mischievous as the ghost of Elvira, although the daubs of white make-up look a bit tacky and clichéd against the rest of the design. Roberta Kerr is just right as the slightly dotty Mrs Bradman and Christopher Wilkinson is a rather nervy Doctor Bradman. Liz Carney gives quite an understated performance as servant Edith that works well.
The Coliseum has produced a slick, funny and entertaining production of a popular modern classic with some superb performances, showing that this is still a play worth reviving – something that The Royal Exchange obviously agrees with as it has recently announced it as its Christmas production, but you can see it in Oldham first.
Reviewer: David Chadderton