Blitz!
Music and lyrics by Lionel Bart. book by Lionel Bart and Joan Maitland
The Union Theatre / Phil Willmott Company
Union Theatre
–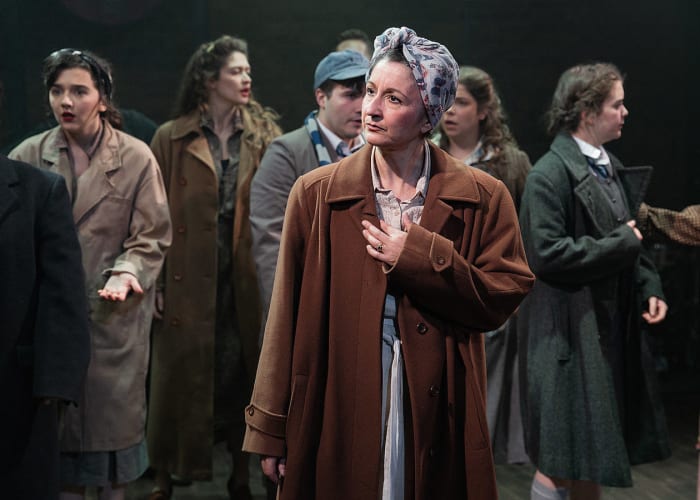 When Blitz! was first staged in 1962, it was the most expensive show ever staged in the West End with a huge cast, Sean Kenny's elaborate set involving a mobile bridge and four revolves, a spectacular show that Noël Coward famously commented was "twice as loud and twice as long as the real thing". Now director Phil Willmott and set designer Reuben Speed squeeze all this into the Union.
Actually it isn't quite all of it. Willmott has done some judicious editing to bring the length down and avoids the original's big-scale parades and spectacular building destroying air raid, but his cast deliver the energy that Bart generates capturing the vitality of the East End.
Bart and Maitland's book may have some clichéd moments but, while it milks the emotions, it can look facts in the face. It's a Romeo and Juliet story with a Jewish girl, Carol Blitztein (Caitlin Anderson), in love with, George Locke (Connor Carson), a Catholic soldier on embarkation leave. They are up against her traditionalist mother and his seemingly anti-Semitic father (Michael Martin), a pair who run adjoining market stalls and have always seem at loggerheads. When leave ends, Carol's brother Harry (Robbie McArtney), who is George's best friend, goes AWOL and, though on the run, rakes in the lolly as a looter and black market spiv.
Mrs Blitztein is a Jewish mama who is at the centre of this community (and Jessica Martin delivers a powerful performance). Michael Martin's Mr Locke is never going to end up the winner in their spats. It's a strong company, all seventeen of them, from Corinna Marlowe's grandma Blitztein and James Horne's grandpa Locke and Beau Harris's lively Elsie to the children who sing "We're Going to the Country" before being evacuated.
There is comedy, tragedy, romance and lots of good tunes ranging from knees-up to romantic and patriotic, including "The Day After Tomorrow" in the style of "We'll Meet Again" (which Vera Lynn recorded for the original production). This and the rest of the score feel perfectly in period and thoroughly enjoyable. Bart wrote songs that were fresh but so direct you felt you had always known them.
Willmott fits London streets, Petticoat Lane, pub, Underground station at surface and platform level and Daniel Maguire's lively choreography into a permanent set that can split and move around and it really does feel like an evocation of a place and spirit that today we are in need of. It's a good night out with a big dose of nostalgia.
Reviewer: Howard Loxton