Blodlina: The Viking Musical
Marcus Wood, Nathan Rees and Vicky Club
VNM Musicals & Townley Productions
Pleasance Dome
–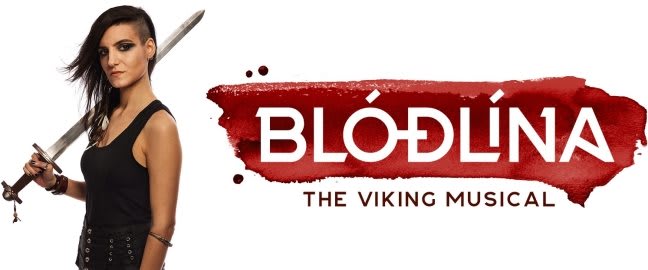 Blodlina: The Viking Musical is an exciting new heavy rock musical from Markus Wood, Nathan Rees and Vicky Clubb. It's loosely based on Norse folklore.
It dramatically opens with the death of the Viking King of Birka. His two daughters argue about who should succeed him. Magnhid (India Shaw-Smith) is the eldest and claims the throne over Ingrid (Kathryn Taylor-Gears). This is to perhaps prove a misjudged choice.
Ingrid wants to make life better for the townsfolk but Magnhid increases taxes, which doesn't make her popular.
Arch rival Jarl Omund (Ed Tunningley) is determined to seize this opportunity to steal their land. He has a commanding stage presence and a powerful voice. He offers his son Leif (Cameron Carlson) in marriage which is rejected and a bloody conflict between the two countries ensues.
The impressive sword fight sequences are well-choreographed as you would expect from a cast who specialised in fight combat at drama colleges.
Icelandic actor Halldora Thoell plays several roles including the priestess, wearing beautiful silver wings, as she carries the dead to Valhalla and there are many!
Comic relief is provided by Loki and Thor (the composer and writer) who act as 'clowns' and break the fourth wall to engage with the audience. A nice touch.
The excellent band deliver a scorching score from soaring ballads to rap and all of the cast have superb singing voices.
The company hope that this production will have a future transfer, perhaps to London with a larger cast and extended development.
But did good triumph over evil? Go see.
Reviewer: Robin Strapp