Blonde Bombshells of 1943
Alan Plater
Lyceum Theatre, Sheffield, and touring
(2008)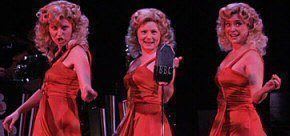 This production of Blonde Bombshells of 1943 has an almost completely new cast from the 2007 tour, with only one name, Barbara Hockaday continuing, and she obviously has other duties, Musical Staging and Resident Assistant Musical Director, and I suppose one should also mention the recording of a BBC announcer, Philip York in both productions.
Those parts which were a play, written by Alan Plater and directed by Mark Babych, left much to be desired in this evening's first performance. The voices, the timing and the whole spirit of the interaction did not gel until the instruments came into action. The wartime jokes about Yanks and nylon stockings were laboured, while the nun was less than convincing until she played her ukelele. Matt Connor, the one man in the show, similarly gave the impresssion that the Army was better off without him, playing as he did someone who avoided his call to duty.
It is true that the first half indicated that they were a group struggling to get a show together, to present on the radio at a secret north east town (named 'ooll) smelling of fish. But they certainly needed to be more professional in indicating that they were not very professional actors, while the reality was they were excellent musicians.
Because when the instruments were opened up, the show caught fire - partially so in the first half, where they had less playing to do, but after the interval, we really heard some music - only eight musicians, but achieving the big band sounds of the period with their tenor and baritone saxes, trumpets, trombone, double bass, piano and drums. And they even managed a swinging trio, the Valentinos.
At the Lyceum until 2 February, then 5-9 Feb Kings, Edinburgh; 11-16 Feb Belgrade, Coventry; 19-23 Feb Rose, Kingston; 25 Feb -1 Mar Connaught, Worthing; 10-15 Mar Venue Cymru, Llandudno; 17-22 Mar Nuffield, Southampton; 25-29 Mar Theatre Royal, Nottingham.
Reviewer: Philip Seager