Blood Brothers
Book, music and lyrics by Willie Russell
Bill Kenwright by arrangement with Bob Swash
Palace Theatre, Manchester
–

Listing details and ticket info...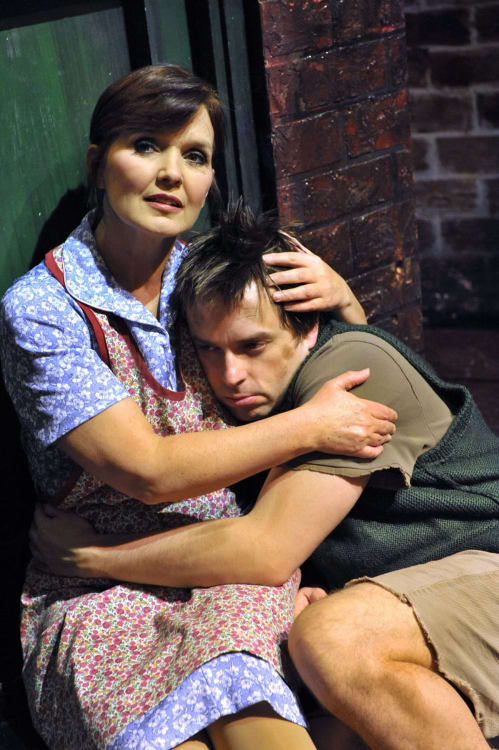 "And do we blame superstition for what has come to pass? Or is it what we, the English, have come to know as class?"
So asks the Narrator at the climax of Willy Russell's musical, Blood Brothers. (Never mind that, in this production the Narrator is a rather well-known Scot, Marti Pellow). The story of twin boys, separated as babies, but destined lead intertwined lives, brings tonight's audience to its feet, provoking tears in some of those around me.
It's 32 years since Blood Brothers premièred at the Liverpool Playhouse (though the programme trumpets an interview celebrating the 29th anniversary). The class issues Russell tackles have not gone away (political cant to the contrary notwithstanding) while, commercially, the piece's appeal has been boosted by its inclusion on the curriculum (tonight's audience is packed with teenage students).
Liverpool mother of six, Mrs Johnstone, deserted by her husband and perhaps no longer the girl who looks (just a little bit) like Marilyn Monroe, is now skivvying to make ends meet at the home of Mr and Mrs Lyons.
Mr Lyons is something high up at a local factory, often away on business. His wife is desperate for a child but can't conceive. When Mrs Johnstone discovers that her husband left her pregnant—this time with twins; one too many for her stretched finances to handle—Mrs Lyons sees an opportunity.
With her own husband away for a few months, Mrs Lyons manipulates her cleaner into giving up one of her newborns, to be brought up in the relative privilege of a middle class home. However, while nurture will prod the brothers, Mickey Johnstone and Edward Lyons along separate paths, fate will relentlessly reunite them as blood brothers, intertwining their destinies with tragic consequences.
Anyone familiar with Arthur Miller's A View from the Bridge will catch echoes of Alfieri in the Narrator (with both, of course, borrowing from the classical Greek tradition). His purpose is to get us to think less about what happens, more about what causes it to happen (no spoilers here, the show opens with the adult twins' bodies being carried from the scene on stretchers, police in attendance).
As a genuine pop star, Pellow has the charisma and stage presence to carry the role, although it must be noted that his accent often owes more to the banks of the Clyde than of the Mersey. This is a shame, especially since, as the Narrator stands outside the action, there would have been no harm in leaving him to speak with his natural burr. For the rest, Pellow sings with conviction and, even pushing fifty, has not surrendered the-smile-that-launched-a-thousand-teenage-fantasies.
Maureen Nolan, as Mrs Johnstone, the hard-pressed mother, puts body and soul into the show. She is as in control of her life and her children as any lone mother with a brood of eight-minus-one and little income might be. Nolan sells us fortitude and wry humour in the face of the persistent demands of creditors, bailiffs, cops and kids, and we are happy to buy. Her singing voice is strong and persuasive.
As might be expected, Russell's posh characters are not just less likeable but less convincingly drawn. The world of the bourgeois childless wife and her factory executive husband feels like one he does not truly know. As a result, Kate Jarman (Mrs Lyons) and Tim Churchill (Mr Lyons) are left having to make the most of pantomime villain roles. They do a fine job, under the circumstances.
Joel Bennett as Eddie, the twin who is given up to the Lyons, has a little more to play with as Russell allows him to be a decent sort, with genuine affection for his blood brother and the woman they both love, Linda.
Daniel Taylor as Sammy, the older brother with the metal plate in his head, has scary fun growing from a revolting child into a ruthless criminal.
Danielle Corlass's Linda grows from cute street-urchin through teen sex bomb to embattled wife and carries it all off with style and wit. It's a nice role and Corlass does not let it go to waste.
The success of the production hangs on how the audience responds to the twin who is not given up. As Mickey, Sean Jones has to move from the scruffy little boy who chances upon a posh "friend" to the broken ex-con, ruined by poverty and addiction to prescription drugs. We have to care about Mickey or Blood Brothers falls flat on its face.
Thankfully, we do care about Jones's Mickey, an irrepressible boy whose adult self is finally crushed by the injustices of social and economic forces that were always stacked against him. By the end, Jones's lost and shambling creation is heart-rending.
The pace of the piece, no doubt driven by the demands of the score, does not always serve the drama well. Perhaps director Bob Tomson could find some gaps along the way for his cast to enrich. When the actors are given space, as when the boys rediscover one another as awkward teens, the audience is genuinely moved by these turning points. The sharply written lyric of "That Guy", which accompanies this scene, shows the marriage of drama and song at its best (elsewhere, Russell's lyrics largely fail to spark).
The sets (by Andy Walmsley)—the rundown victorian terrace of act one giving way to new town social housing near Skem in act two—function well enough without leaving a lasting impression.
Musically, only the finale, "Tell Me It's Not True", stands out. Creating earthy, truthful Scouse characters was always Russell's strong point, and these are what hold the attention in Blood Brothers.
There are several points in the plot which require determined suspension of disbelief on the part of the audience, perhaps most notably where the climax is triggered by the unexplained betrayal of a son by his adoptive mother. Tonight however, the cast earn their audience's complicity in this game.
At curtain call, both on stage and in the auditorium there are signs of tearful engagement with the undeniably powerful finale. Who says teenagers are a tough audience?
Reviewer: Martin Thomasson