Blood Brothers
Willy Russell
Bill Kenwright by arrangement with Bob Swash
The Hawth, Crawley
–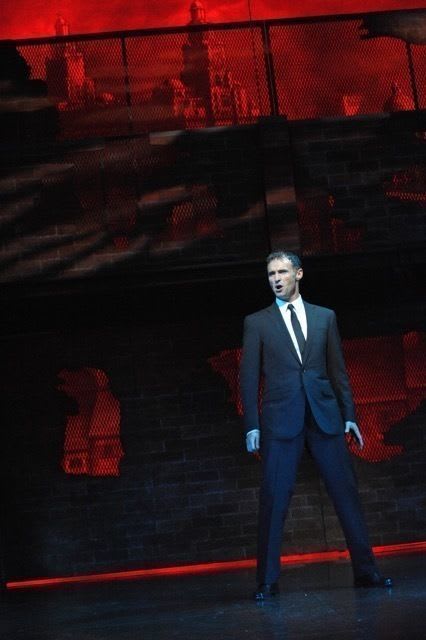 Beginning as a school play, Blood Brothers had a shaky start when it was first produced in the West End. Bill Kenwright, it appears, loved it, had ideas for turning it around for more audience appeal and it has never looked back.
Now, in its 28th year, it has lost none of its bite, still having the power to keep an audience completely silent until the end when they all leap to their feet applauding wildly.
The story covers a question which we all must have wondered about at some time: what has the most effect on a child's upbringing, nature or nurture? What would happen if identical twins were separated at birth, one going to affluent, well-educated parents and the other left in poverty with a mother who never had the chance of an education.
The play takes this premise and begins with the end as, on a dimly-lit stage, two bodies lie enveloped in blood red blankets, and the song "Tell me it's not True" rings out through the theatre with all the anguish of a woman who has lost her two sons—and then the tale begins.
Marti Pellow narrates in rhyming couplets with the opening line, "have you ever heard the story of the Johnstone twins?" which has me, and everyone else, hooked. I have to admit I sometimes had a little difficulty hearing all his words and I think it might have something to do with the sound system distorting his voice slightly. Whatever it was, it still sent shivers down my spine which I am sure is the intention.
Maureen Nolan is the fourth of the Nolan sisters to take on the role of Mrs Johnstone and she performs it superbly with her singing clear, true and full of feeling. Her anguish is palpable as she reluctantly parts with one of her identical twins, and there is even more anguish to come. The brothers only discover their identity at the moment of death when the one left in poverty blames her. "Why did you give him away—why didn't you choose me?"
This is Mikey and a great performance from Sean Jones, totally believable as the young boy galloping about on his imaginary horse, full of energy and only just managing to put up with cute little Linda (Danielle Corlass) who says she loves him. Endearingly funny when sitting on the edge of the stage to confide in the audience what it's like to be "seven, nearly eight", but heartrending as he progresses to prison, and a dependence on drugs to counteract deep depression.
Twin Eddie (Joel Benedict) is well-educated, well-spoken and well-dressed. I did note, though, that, although the standard of their education is very different, the teachers are equally unpleasant in their different ways.
In spite of the Scouse humour throughout, you may leave the theatre emotionally drained, but sure that you have seen something really special. Only one small niggle—that pram stood out as being much too new.
Reviewer: Sheila Connor