Blood Brothers
Book, music and lyrics by Willy Russell
The Lyric, Theatre Royal Plymouth
–

Listing details and ticket info...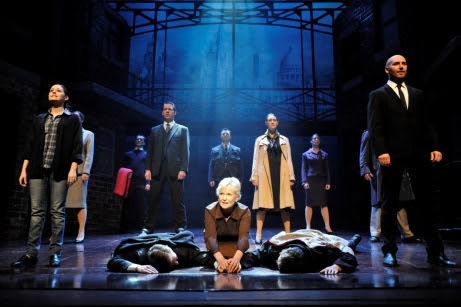 It may be a somewhat trite story populated with stereotypes and banality, but Willy Russell's multi-award-winning 1983 tragedy still brings an audience to its feet through cracking songs and outstanding performances.
The third-longest running musical in the West End, it's a tale examining the social divide and nature v nurture, as the worn-out Mrs Johnstone, abandoned by her Jack-the-lad husband to bring up a soon-to-be brood of nine, is persuaded to give away one of the newborn twins to her infertile upper-middle-class employer.
Of course the boys meet and become friends—making a blood pact to unite forever—much to the horror of both mothers but their lives—and deaths—are inevitably intertwined.
Alex Patmore is superb as Mickey, whether grubby, streetwise at almost eight, gauche and gawky at 13 or downtrodden and medication-addled old before his time—always believable. His childhood ebullience is spot-on and, as we watch him grow, the pathos is palpable and his demise heart-breaking.
Twin Eddie (Joel Benedict) is a well-mannered, scrubbed clean seven-year-old, wide-eyed at the rough and tumble of tenement childhood; an effusive lovelorn teen drawn to the other side of the tracks and an accommodating politician ready to help out old friends.
Third in the inevitable love triangle is Linda. Danielle Corlass is absolutely convincing as an infant, a teen and as despairing mother and wife. Tremendous.
The grim social commentary revolves around the well-to-do Lyons. Graeme Kinniburgh is suave businessman Mr Lyons, reaping the benefits of industry and quick to shed his hardworking employees—triggering Mickey's swift one-way spiral into hopelessness—when the chips are down. Paula Tappenden is spot-on as his highly-strung, desperate, childless wife whose Bible-bonded pact heralds both the joys of motherhood and devastating paranoia.
Tim Churchill more than ably stepped up and through the fourth wall as the sinister Narrator on press night. A brooding omnipresence lurking in darkened doorways and up on the gantry passing commentary and almost reeking of brimstone as he reminds us of the consequences of 'Shoes Upon The Table', broken mirrors and devilish pacts.
Lyn Paul is Mrs Johnstone. She really is Mrs Johnstone. The glue of the piece. Feisty and worn out; 'Marilyn Munroe'-esque and dowdy; a hard-working mum for whom 'Easy Terms' means a mass of kids, one-wheeled bikes and a never-ending cycle of catalogue purchases and repossession. Paul is a delight in this, her last outing in a role she has long made her own.
Danny Taylor is the dangerous Sammy, dropped on his head when a baby and psychotic since. Weeing on sweets, spitting at enemies and petty pilfering morphs to armed robbery and menace; Grace Galloway plays Donna Marie who is bound to uphold the family fecundity while Hannah Barr, Matt Slack, Josh Clapper and Andy Owens populate the piece as warring children (evoking those long days of Cowboys and Indians, Germans v Brits and more games); teacher, postman, doctor, bus conductor and workers.
Live music is always a bonus and Matt Malone keeps a tight grip on the band which does the soaring score justice and haunts with recurring motifs. The sound is often a problem at the Lyric but, other than some early sibilance, the balance is reasonable and doesn't detract from the big moments.
Andy Walmsley's set is simple: condemned terrace houses in urban Liverpool with looming gantry and graffiti or identical houses in the fresh air of the countryside, with balcony and extensions to designate the better-off. Black gauze is effectively utilized by lighting director Nick Richings to add to the gloom and doom-laden moments while careful shadowing or clear brightness adds cues for the drama and light relief.
A perennial favourite which even impresses those of us not particularly keen generally on musicals—the two and three-quarter hours passes quickly.
Reviewer: Karen Bussell