Blood Knot
Athol Fugard
Orange Tree Theatre
–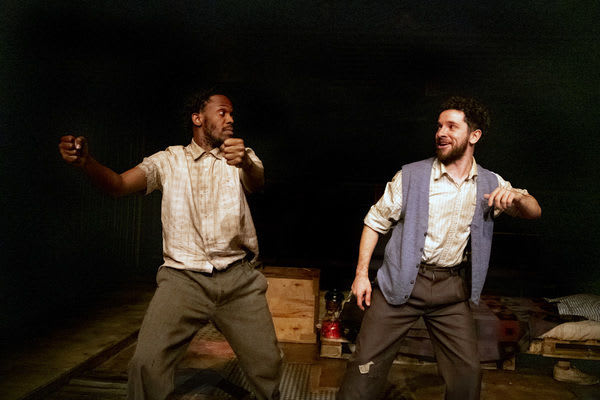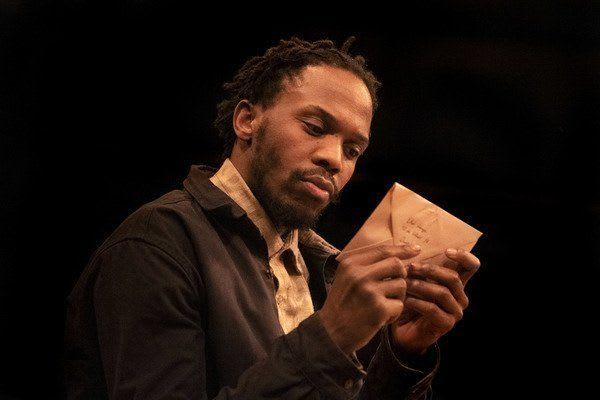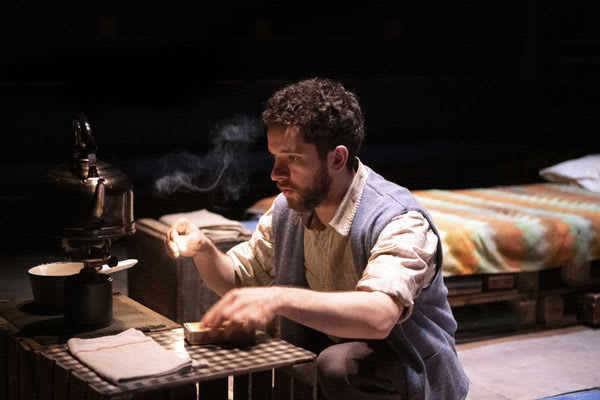 It is 1961 in Apartheid South Africa, a decade after the introduction of the pass laws and the year after the massacre at Sharpeville of protesters against them. In a corrugated iron shack in Korsten, a shanty town on the outskirts of Port Elizabeth in the Eastern Cape, live two brothers, Morris and Zachariah.
They are of mixed ancestry, officially classified by government nomenclature as "Coloured" which could include a wide variation in appearance, perhaps made more extreme in their case by having different fathers: Zach is dark-skinned and looks like a black man; Morrie could pass as white, indeed may for a time have gone off and done so, but now is back with his brother.
Morrie likes reading and has educated himself from books, but Zach is illiterate; while his brother has some knowledge and had a taste of white life, Zach has been trapped by the system, exposed daily to insults, a more obvious victim of prejudice and inhumanity. But it is Zach's wages they life off. He has job as a gatekeeper at a whites-only park, keeping blacks out of it while Morrie plays housewife: cooking meals and getting things ready for Zach's return in the evening with a bowl of water waiting for him to bathe his tired feet in.
If there is any explanation of why Morrie doesn't have a job, I missed it and at first you might think this a gay couple, but there is also a way in which the relationship replicates the controlling white population living off the work of the black majority and the whole play is a direct comment on the Apartheid situation.
Both play and Matthew Xia's meticulous production are at the same time both detailed in their attention to realistic detail (like the patchwork of different patterned lino on the shack's floor and the background soundscape) and a symbolic but graphic presentation of racial stereotyping and injustice.
Morrie has been putting away some of Zach's hard-earned rand for a dream of buying a small farm and moving way from their life in Korsten while Zach is missing the wild life he once indulged in and contact with women, especially sex with a girl called Connie. The way he asks Morrie about women again raises a question about sexuality. Morrie suggests Zach gets a newspaper that carries lonely-hearts small ads and they write off to one girl who says she is 18 and "well-developed".
What neither realise until she replies, and after Zach has got very excited about her, is that she is white. Illiterate Zach bought a paper for white readers. To make matters more serious, this girl has a brother in the police force. This could get Zach in very hot water, but he insists on continuing the correspondence.
Kalungi Ssebandeke presents a Zach authentically tired when he gets home, resentful of the way people treat him but bursting with energy when stirred by enthusiasm, happy to let Morrie do the thinking but once he gets an idea going with it, there is a dark humour in the way Zach dangerously gets his way.
Nathan McMullan, carefully cast to give the right physical difference, is gentle and caring as Morrie. He behaves as though he made a promise to their mother to look after Zach or perhaps to make up for something he feels he has that Zach doesn't. He is much more aware of the predicament they could get themselves into. Could his return home have been on the run from some trouble over his pass or attempting to live as a white man? His life seems to be regulated by an alarm clock that alerts him to prepare things for Zach, which he does almost automatically. His domesticity seems to cover an underlying tension. That clock also seems to be a reminder of time running out for South Africa, either for white supremacist power or for the hopes of black activists.
Both actors give impulsive and compulsive performances, supported by a production in which realism and metaphor co-exist. It moves easily in the second act to embrace a more hypothetical situation leading to an overt demonstration of the racial divide as what begins as game playing initiated by Zach sees Morrie taking the ruling role of the white man.
Though Blood Knot is rooted in the apartheid experience, its relevance continues and it isn't just about racism. It is also about the family blood bond and the power that goes with the smart suit.
With the more specifically political A Lesson from Aloes also playing at the Finborough Theatre, London has two Fugard plays running concurrently. The former only just escaped banning by the South African authorities and a BBC television showing of Blood Knot led to the confiscation of Fugard's passport, such was their potency, and this production shows it undiminished. It deserves to be seen much more widely, but if it is within reach catch it at the intimate Orange Tree.
Reviewer: Howard Loxton