Blood Brothers
Willy Russell
Darlington Civic Theatre and touring
(2010)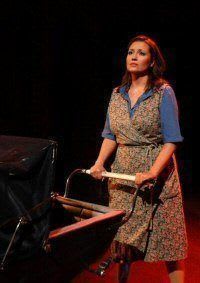 "So, did y'hear the story of the Johnstone twins?"
Well, if you haven't you must! The phenomenon that is Blood Brothers has been captivating audiences for 25 years now and, although this musical is celebrating its silver anniversary, it can only be described as pure gold. Willy Russell's moving tale of two twin boys who are separated at birth and grow up on opposite sides of the social-class spectrum, only to meet up again with devastating consequences, has established itself as a contemporary classic around the globe. From the West End of London to South East Asia the multi-award winning musical plays to sell-out theatres every night.
Having seen the show numerous times before, the characters and plot are familiar to me but, despite that, Blood Brothers grips me each and every time with its poignancy, humour, tenderness and tragedy.
The role of Mrs Johnstone is surely one of the most coveted in musical theatre and the struggling single mother "with seven hungry mouths to feed and one more nearly due" has been played by such well-known actresses as Barbara Dickson, Petula Clark, Kiki Dee, Stephanie Lawrence, Helen Reddy, Carole King, Lyn Paul, Marti Webb, Melanie Chisholm and four of the Nolan sisters. Niki Evans is the actress who is currently wearing the care-worn smile and cross-over pinny.
Evans presents the audience with quite a different 'Mrs J' – although she is maternal, understanding, compassionate, earthy and warm-hearted, she also displays a nervy vulnerability. In addition to a phenomenal acting performance, she delivers her musical numbers with meaning and conviction and her voice is clear, rich and full of emotion.
Sean Jones, as Mickey, and Paul Davies as Eddie are outstanding. It can't be easy to convincingly play a seven year old child but both of them achieve it admirably, capturing every childhood nuance accurately. The transition to teenager, then man, is equally convincing. Both actors display great skill with the many poignant scenes that they share and the contrast between 'posh' Edward and 'scruffy' Mickey manifests itself perfectly in their performances. Jones makes the most of Mickey's comedic qualities without ever over-playing them and Davies gives Eddie an endearing charm and vulnerability.
Kelly- Anne Gower plays Linda, the girl both boys fall in love with. She, too, gives a fine performance throughout, especially in the scene where she tries to persuade Mickey to stop taking the anti-depressants that have transformed him into an empty shell of a man.
Robbie Scotcher plays the significant role of the Narrator, a spectral figure who personifies the moral consciences of Mrs Johnstone and Mrs Lyons, and his performance is as strong and sinister as it should be. His ominous presence hovers around like a dark storm cloud on a sunny day and his strong and powerful voice is hauntingly beautiful.
The strong supporting cast includes Tracy Spencer and Poppy Roe who play Mrs Lyons and Donna-Marie respectively. Daniel Taylor is bad-boy Sammy and Tim Churchill is Mr Lyons.
Blood Brothers is a production that goes from strength to strength, its appeal growing over the years rather than diminishing. It is so powerful a play that it can be watched time and time again without ever losing any of its emotional impact or social relevance.
Wherever it is performed, Blood Brothers receives a standing ovation from an approving audience and last night was no exception. This production is heart-warming, tear-jerking, uplifting, devastating and, above all else, brilliant!
Runs until Saturday 25 September 2010, then tours to Mayflower Theatre Southampton, Birmingham Hippodrome Theatre, His Majesty's Theatre Aberdeen, Grand Theatre Blackpool, Empire Theatre Liverpool, Milton Keynes Theatre, Theatre Royal Newcastle.
Reviewer: Steve Burbridge