Blood Brothers
Willy Russell
Bill Kenwright by arrangement with Bob Swash
Edinburgh Festival Theatre and touring
(2007)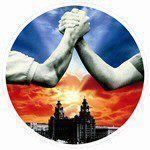 Excellent voices make this production of Willy Russell's classic hit into an enjoyable night out. Vivienne Carlyle, taking on the role normally filled by Linda Nolan, was fantastic as Mrs Johnstone, the down-on-her-luck female lead in this tale of two brothers separated at birth. Antony Costa and Simon Willmont, as doomed twins Mickey and Eddie respectively did well as the affectionate and easy-going best friends.
Willy Russell's story creaks a bit around the edges, certainly showing its age, and the two or three musical motifs that repeat over the course of the show become a bit grating, but fans of the show are presumably fans because they enjoy his nostalgic approach to unemployment and class struggle.
A sweet story with an ending that comes about very suddenly, Blood Brothers' touring performance is a solid production of a classic show.
Sheila Connor reviewed this production at the New Victoria Theatre, Woking
Reviewer: Rachel Lynn Brody